Fino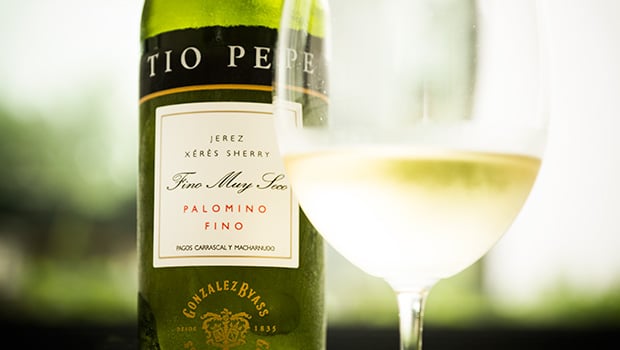 Published on September 26th, 2013 | by Ruben
3
Tio Pepe (González Byass)
Tio Pepe is without doubt one of the most famous sherries. The brand has been around since 1844 and it was named after José Ángel de la Peña, the Uncle Pepe of the bodega's founder Manuel María González Ángel. At that time Fino was still a very local Andalusian product, and it was his uncle who encouraged him to commercialize it on a wider scale.
Tio Pepe is simply the best known sherry, from the largest bodega in Jerez
Tio Pepe is one of the few commercial sherries that mention their Carrascal and Macharnudo vineyards on the label, two of the best areas for Palomino grape cultivation, to the North-West of Jerez de la Frontera. There are over 30.000 casks currently reserved for the Tio Pepe solera, making it a huge-scale sherry with a vast array of wines to choose from when blending the final product. Despite the scale, it is known for a constant quality and the archetypal profile of a Fino. Since a few years, González Byass also releases an annual Tio Pepe En Rama version which is less heavily filtered.
Tio Pepe (15%, González Byass)
Nose: fresh and bright, with notes of lemons and green olives, as well as a gentle saline touch and just hints of yeast. Quite fruity, mainly apples. Almonds. Dried flowers. The softest medicinal touch as well (iodine).
Mouth: medium dry and medium bodied. Quite rounded. Still quite fruity: some zesty grapefruit, juicy lemon and apple. A moderately saline note towards the end, ending in a salty / bitter finale and clear acetaldehyde notes.
Availability: as widely available as it gets. Around € 10-13 for a full bottle. Half bottles are quite common as well. If you can't find it, check The Whisky Exchange for instance, they ship around the world.
Summary: A moderate Fino sherry, fruity and tangy at the same time. It won't steal the show but it won't disappoint either. Always a suitable accompaniment to a good meal.