Oloroso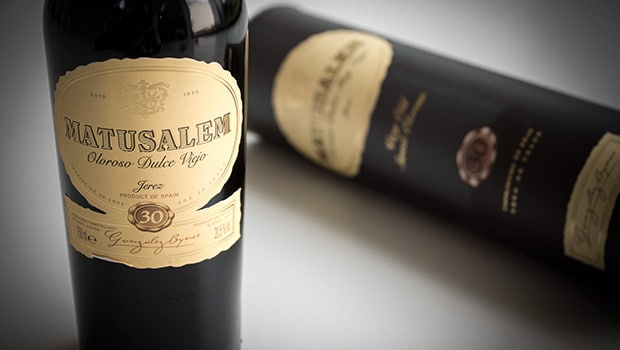 Published on August 25th, 2014 | by Ruben
1
Matusalem Oloroso Dulce VORS (Gonzalez Byass)
While Cream sherries are sometimes cheap, cloying blends, this is a very balanced and honest sweet Oloroso
Matusalem is a sweetened Oloroso or Oloroso Dulce. It carries the V.O.R.S. label which means it's at least 30 years old on average. It is one of four wines in a well-aged range that won numerous awards (see Noe, Apostoles and Del Duque).
While it's obvious that Matusalem is a blend of Oloroso with sweeter Pedro Ximénez, you will find different assumptions about the origins and the production methods of this wine. Some say the dry Oloroso ages separately for 15 years before being blended and passed through a solera. In fact winemaker Antonio Flores confirmed that this happens much earlier in the process and that it spends its whole life together in a solera. The base wine for Matusalem is its younger sibling Solera 1847, a blend of around 8 years old, which then passes through the Matusalem solera for an additional 22+ years. Blending the components early in the process results in a smoother, more natural feeling wine than those blended at the moment of bottling.
Traditionally all grapes are grown on González Byass' own vineyards – they're one of the only bodegas that still maintain P.X. vines in the Macharnudo and Carrascal areas (nowadays this type is mostly bought from bodegas in Montilla – Moriles). The amount of P.X. added is around 25%, which results in a wine that contains around 130 grams of sugar per liter. While technically a Cream sherry with a seemingly high sugar content, the end result manages to keep the right balance, without feeling cloying or being dominated by the P.X.
Matusalem is more or less an archetype of sweetened Oloroso, and one of the success stories of González Byass. It has won numerous awards, including a Gold medal in the International Wine Challenge during most of the 1990's.
Oloroso Dulce Matusalem VORS (20,5%, Gonzalez Byass)
Nose: toffee, chocolate and bags of dried figs, prunes and raisins. Hints of walnut liqueur and hazelnut cream. Coffee. Different kinds of precious woods, sandalwood to name just one. A distant echo of lemon peel too. Actually not too sweet and the complexity is really high.
Mouth: it's Dulce alright, but actually I feel the balance between sweetness, acidity and herbal savouriness hits a sweet spot. Deep oaky notes again, leathery notes and dark chocolate. A certain heat as well, probably because of the many herbs and spices (cloves, soft pepper). Roasted nuts. Espresso. Some tangy lemon in the background.
Availability: usually quite easy to find. Available in 37,5 cl or 75 cl bottles. Around € 24 for a half bottle. If you can't find it, check The Whisky Exchange for instance, they ship around the world.
Summary: I know some people think sweetened sherry can't be good, but these kind of old, well integrated examples can show a stunning balance. The P.X. sweetness adds richness and intensity, and helps to control the oaky astringency that comes with age.