Amontillado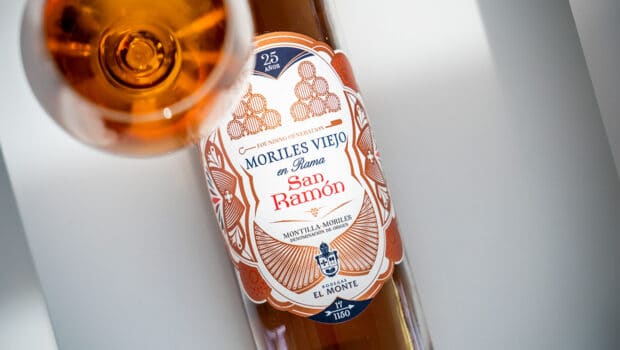 Published on July 16th, 2021 | by Ruben
0
Moriles Viejo En Rama San Ramón (Bodegas El Monte)
A really old Amontillado type, although it is officially named Moriles Viejo
Bodegas El Monte is one of the lesser known names in the D.O. Montilla – Moriles. They were founded in 1994 and are located in the pago Cerro del Majuelo (Moriles Alto) where they work 28 hectares of vineyards. Besides some white table wines they produce the Fino Los Naranjos and the older Fino Cebolla. Then there's a San Ramón series which includes a PX of 12 years and this Amontillado (dry but also made from Pedro Ximénez grapes). This series was named after the founder Juan Ramón López and was recently given a makeover with new labels.
This Amontillado is around 25 years old. It goes through a period of biological ageing (15 years) and then passes to an oxidative phase (10 more years) in a natural way, without a second fortification.
For some reason there seem to be pictures of the label including 'Amontillado' but my (newer) bottle says Moriles Viejo on the label. I'm not sure what made them change this, or why apparently they can't name it Amontillado any more. Another strange thing is the fact that neither the front nor the back label include the alcohol volume.
Moriles Viejo En Rama San Ramón (18%, El Monte)
Nose: pretty impressive. There are typical oxidative notes, like caramelized sugars, hazelnuts and almond. Hints of toasted bread and subtle vanilla. Also a gorgeous leathery side and lots of beeswax and precious woods. In the background there's a great hint of flor, in a warm, almost farmy way (hay, wet wool). Really nice.
Mouth: dry attack, with quite some acidity, tobacco leaves, orange peels and a prominent lemon / salt combination. Roasted nuts. Mid-palate it picks up roundness, but not for long, as it returns to the dry / saline profile with a herbal bitterness in the end.
Availability: limited distribution with hardly any exports. Around € 15, check Bodeboca or Andalucia de Vino for instance.
Summary: Moriles Viejo is a great old Amontillado with a very complex nose, showing a great balance of roundness, biological punch and waxy touches. On the palate it's slightly more austere but still very good. A very good wine with a stunning price / quality ratio.