Amontillado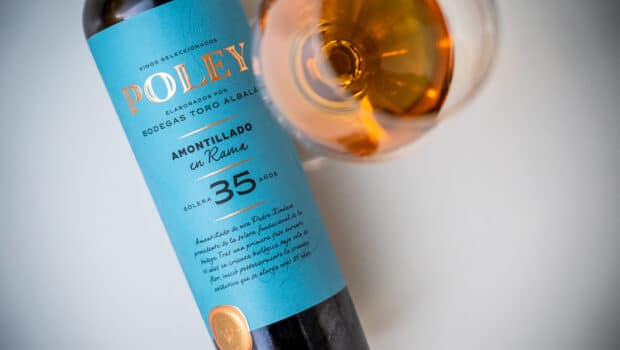 Published on May 13th, 2022 | by Ruben
0
Poley Amontillado 35 Years (Toro Albalá)
Toro Albalá is best known for its sweet old Pedro Ximénez wines, but also produces great dry wines
The Poley Amontillado proceeds from a foundational solera at Toro Albalá. This ensemble of casks was set up in 1922 when José María Toro Albalá began producing wines in El Lagar de Nuestra Señora del Carmen, a warehouse that was once an electric station. This wine starts its life as a Fino under a veil of flor. After approximately 10 years of biological ageing the flor starts to weaken and the wine loses its protection, allowing the start of a long oxidative ageing period.
Contrary to an Amontillado from Jerez, this wine is made from Pedro Ximénez grapes and has not been fortified. The ripeness of the fruit in this (inland) climate and the natural sugar levels of the grape variety result in a higher glycerol richness. Add to this a lengthy ageing and concentration and you get a high natural alcohol volume of 21% ABV.
This wine used to be sold as Amontillado Viejísimo Solera 1922. Recently the entire portfolio was restructured and given a design makeover. The dry styles (Fino, Amontillado, Palo Cortado and Oloroso) are brought together in the Poley range. This was the Arab name for the town of Aguilar de la Frontera, until it was recaptured during the Reconquista. The new label also explicitly mentions the age: 35 years in a solera.
It also gets a Vinolok glass stopper, a product that eliminates cork taint but at the same time looks classier than a screwcap. I hadn't seen this in fortified wines before, but it's definitely a trend and it seems to work well.
Toro Albalá online tasting
I will present this wine in the online tasting I will host for the Dutch wine and whisky specialist van der Boog. If you're in The Netherlands and you're interested in getting to know Toro Albalá's wines, be sure to order a tasting pack and follow the Zoom tasting 1st of June 2022. We will have 8 wines in total, starting with the Fino En Rama, on to Amontillado, Palo Cortado and Oloroso. Then we'll have a couple of sweet wines, ending with the award-winning Don PX 1980 and Don PX 1958.
Poley Amontillado En Rama 35 Years (21%, Toro Albalá 2022)
Nose: quite aromatic, with a solid foundation of caramelized nuts (almonds, walnuts) and polished wood. Some prominent oak spice as well (white pepper, nutmeg). Underneath there is some toffee and vanilla roundness but also a very light saline edge and a hint of leather.
Mouth: concentrated, with a sharpness that makes you think of a salt and lemon combo. Heavily toasted nuts (mainly walnuts now) and hints of pepper. It's quite racy but at the same time rather pulpy with a rich glyceric side that is typical for PX based wines (even when they're meant to be dry). After a while a firm bitterness sets in. This leads to a light hint of grassy olives and tangy wood which leads to a slightly smoky finish.
Availability: typically around € 45-55 for a 50 cl bottle. Check van der Boog if you're in The Netherlands.
Summary: Quite a crowd pleaser: you get the intensity of long ageing, nice polished oak but also some candied notes to make it easy to approach. A nice wine with above-average concentration and complexity. If anything it shows the high quality of Toro Albalá's dry wines.