Amontillado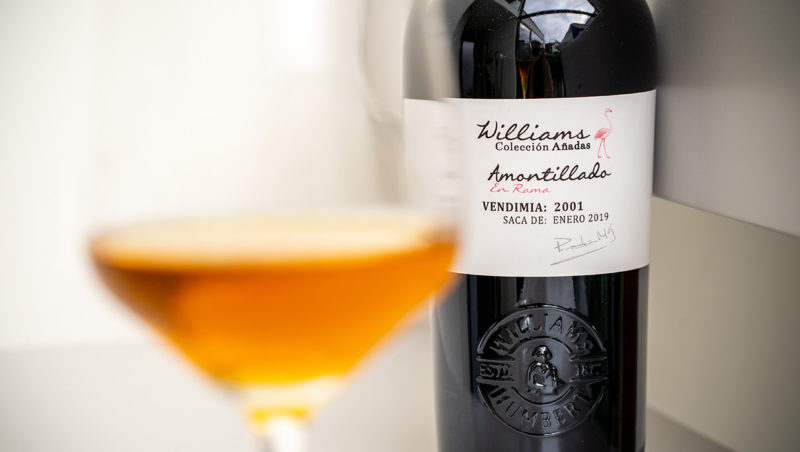 Published on October 8th, 2019 | by Ruben
0
Amontillado 2001 (Williams & Humbert)
In April 2019 Williams & Humbert presented its latest bottlings in the Colección Añadas, the series of statically aged vintage sherries. One of them was this Amontillado 2001, made in their first year of añada experiments.
As with the other añadas, it was made from free-run musts from old vines (20-60 years of age) on albariza soils in the pagos Añina and Carrascal. In this case they were fortified to 15.5° and started to aged biologically under the influence of flor. Contrary to sherry aged in a solera system, it was matured statically, without refreshments or other interventions (barrels are sealed with wax and can only be opened with a witness from the Consejo Regulador).
The first Amontillado Añada they released was a 2003 bottled in 2016. In November 2017 they also released a bottling of this Amontillado 2001.
Until 2011 it was classified as a Fino, then it progressed to an Amontillado. In the past the W&H Amontillados in this series have always switched to oxidative ageing in a natural way, but in this case it was induced (or at least aided) by a second fortification. It was nearly 18 years old when bottled in January 2019.
This wine will be part of the #SherryTT 2019 Twitter tasting, in which we'll have five Amontillado wines and explore the wide range of characters that exists in this category. You can still apply and try it with us during Sherry Week.
Amontillado 2001 En Rama 'Colección Añadas' (20%, Williams & Humbert, January 2019)
Nose: dry but with an excellent jamminess at first (think apricot jam and marmelade, even the slightest touch of sunned / late harvest sherry), mixed with caramelized almonds and honey. Darker hints of toffee and hazelnuts. Orange peel, hints of blossoms and citric touches. Light spices. I'm only getting a light salinity here, but I'm sure the flor helped to achieve this bright and elegant character. Coupled to the tensity, this is a great nose.
Mouth: again a great juiciness, with some fruity notes and honey. The classic toffee and nutty flavours are there, but the acidity makes it brighter and very delicious. Oranges and mirabelles tartlets. Some peppery notes and a light tannic edge, but always some roundness to balance it. There's a pronounced saline touch as well, but more in a salivating way, rather than a coastal / mineral way, if that makes sense. Moreish finish, great length.
Availability: from Williams & Humbert direct if you live in Spain (€ 40-45 for a 50cl bottle) or through distributors, but highly limited. For international shipping, try Bodeboca.
Summary: A cracking Amontillado and one of my favourite releases from the Colección Añadas already. There's such a great mix of fruitiness, sapidity and classic caramel / toffee notes! Clearly different from a solera-based wine, very interesting.