Amontillado
Published on January 24th, 2014 | by Ruben
0
Amontillado 6|26 (Alexander Jules)
The Amontillado 6|26 is coming from the same bodega as the Manzanilla 17|71
This Amontillado 6|26 is bottled by Alexander Jules. Like the Manzanilla 17|71 it was matured at the Bodegas Argüeso. This time it's a composition of wine of 6 barrels from a solera of 26 barrels in total. As every barrel is unique, Alex goes through the whole solera to hand-pick the most preferable casks. At Argüeso this solera is referenced as the "Amontillado Fino" solera (a younger style of Amontillado).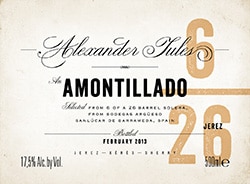 Officially it can only be categorized as an Amontillado, but Manzanilla Amontillada would have been more correct. In any case it spent around 5 years maturing as a Manzanilla (under flor). It then received a further fortification (which kills the flor) and matured another 5 years in the oxidative way.
Alexander Jules stresses the minimal processing of the wine (fining, filtering, stabilizing, etc.). The wines are essentially bottled en rama, with just a cellulose plate filtration at time of saca and a 1 micron filtration at time of bottling. None of the wines are fined, cold stabilized or exposed to active carbon.
Amontillado 6|26 (17,5%, Alexander Jules, May 2013, 1300 btl., 50 cl.)
Nose: rather soft and feminine. Still close to a Manzanilla Pasada, with chamomile and baker's yeast. Subtle hints of bacon fat and stables. Dried porcini. Sweeter toffee notes too, even subtle pastry notes. Whiffs of yellow flowers and orange peel. On the nose it doesn't have the tangy profile or the nuttiness of a true Amontillado.
Mouth: more Amontillado elements now, but again quite subtle, with an emphasis on elegance. There's a pleasant acidity of lemons and oranges. No sharpness whatsoever, but the subdued acidity is very prominent. Soft hints of toffee and a gentle zesty bitterness. Evolves on briny notes with just a hint of apples in the finish.
Availability: only in the US at the moment. Around $ 40 for a 50cl bottle.
Summary: A very pleasant wine (especially when combined with food), but it shows just a little less complexity than the other wines from Alexander Jules. Also the difference with the Manzanilla is smaller than it could have been.