Manzanilla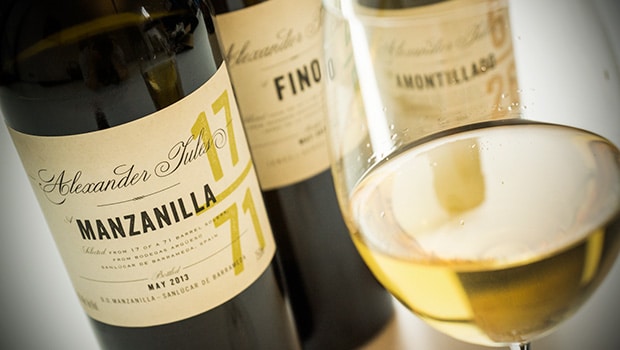 Published on November 22nd, 2013 | by Ruben
0
Manzanilla 17|71 (Alexander Jules)
Alexander Jules is an independent bottler, carefully selecting casks from famous bodegas
Alex Jules Russan started the Alexander Jules label after having worked in specialty coffee and being a sherry lover for many years. As an independent bottler, he's trying to 'highlight' outstanding casks that are normally being blended away. Based in Santa Monica, USA, he spent some time in the Jerez area to make his selection. The wines have been announced for some time, but their official debut was at Sherryfest NY last October. There's a Manzanilla, Fino and Amontillado.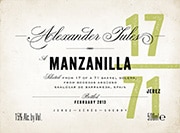 The Manzanilla 17|71 we're reviewing today, was matured by the Bodegas Argüeso (17|71 means it was taken out of 17 barrels from a solera that holds 71 barrels in total). This solera also produces the respected San León Manzanilla.
Alexander Jules stresses the minimum of treatments to the wine (fining, filtering, stabilizing, etc.). The wines are essentially bottled en rama, with just a cellulose plate filtration at time of saca (May 2013) and a 1 micron filtration at time of bottling. None of the wines are fined, cold stabilized or exposed to active carbon.
Manzanilla 17|71 (15%, Alexander Jules, May 2013, 1100 btl.)
Nose: a strong yeasty influence (after all this is older Manzanilla and bottled 'raw'). Pungent flor, a little horse stable and flax sacks. Almonds and walnut husks. Green apples. Nice hints of polished oak. Then again there is a delicately floral layer which holds orange blossom, even a little hint of lemony Magnolia Grandiflora. Quite special.
Mouth: powerful with a heavy body. Still some floral freshness and fruity roundness in the background, but the main element here is the pungent, coastal body. Balanced acidity. Hints of apples. Slightly metallic notes as well.
Availability: only in the US at the moment. Around $ 40 for a 75cl bottle. Note that it comes with a traditional cork, encouraging us to drink it more quickly.
Summary: A complex Manzanilla. Especially the combination of deep, mature flor notes and such a floral freshness is unique. Well aged yet very drinkable. An excellent match for a variety of foods, even slightly heavier dishes than you would usually pair to a Manzanilla.