Amontillado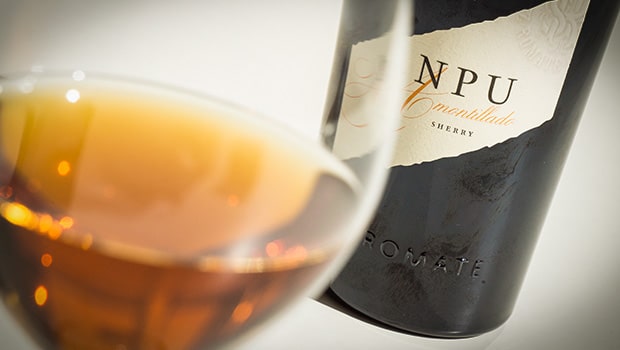 Published on May 14th, 2014 | by Ruben
0
Amontillado NPU (Sánchez Romate)
I suppose NPU stands for Non Plus Ultra (Latin: not further), so this should be the ultimate Amontillado from Bodegas Sánchez Romate. After all it's the favourite wine of Romate's oenologist Reyes Gómez Rubio. It's their younger Amontillado, compared to the Amontillado in the Old & Plus series which is a V.O.R.S. wine of 30 years of age.
Despite claims from other sources, NPU is around 15 years old
The age of this Amontillado NPU is a little unclear. Most websites (including the official www.romate.com) claim it's over 30 years old but this is a mistake and Reyes confirmed it is actually around 15 years old.
At the beginning of 2014, Sánchez Romate redesigned the Reservas Especiales and replaced the old standard bottles with a new, more dumpy bottle with a very contemporary slanted label. Really classy.
This wine will be part of the #SherryTT 2019 Twitter tasting, in which we'll have five Amontillado wines and explore the wide range of characters that exists in this category. You can still apply and try it with us during Sherry Week.
NPU Amontillado (19%, Sánchez Romate 2013)
Nose: a bit silent at first, it's a slightly gentle Amontillado, quite rounded and sweetish. Caramel coated hazelnuts with dried apricot. Very soft meaty hints (which fade after a while), also a touch of praline and vanilla. Pipe tobacco leafs. Very light traces of its Fino past, with a faint yeasty note, but quite an oxidative style overall. Candied orange. Also a subtle varnish top note, I love that.
Mouth: drier now, and more pungent than the nose suggested. Plenty of acidity with a some Fino saltiness and green olives. Walnuts skin, not much oak, still some vaguely fruity, juicy notes. Picks up nutty notes, evolving towards herbal and slightly bitter notes, but always balanced by a suggestion of sweet roundness. Long, dry finish.
Availability: pretty good, it's available from different retailers in many countries. Around € 20-25 which is a good price for a well-aged wine. Try The Whisky Exchange or Master of Malt for international shipping.
Summary: NPU is a generous Amontillado, hesitating between roundness and tanginess. Mostly influenced by its oxidative phase, I'd say. One of my favourite Amontillados in this price range.