Amontillado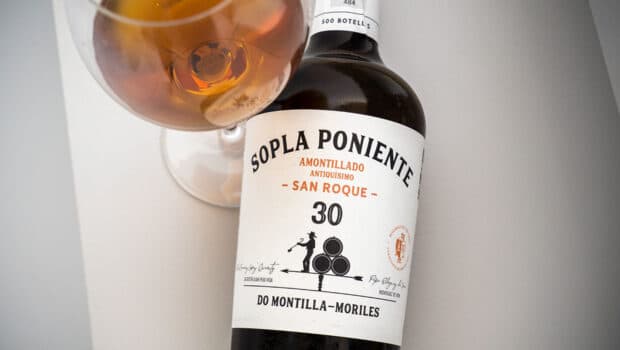 Published on September 12th, 2021 | by Ruben
0
Amontillado San Roque 30 (Sopla Poniente)
An old cask of Amontillado which can be traced back to Bodegas Navarro, now part of the Sopla Poniente series
Winery Rodriguez de Vera is a project collection of wines produced in different Spanish regions. Their headquarters are near Albacete in Castilla – La Mancha but they also have wines from Jerez or Montilla bundled under the name Sopla Poniente. They're acting as a négociant (or marquista as they often say in Jerez), selecting casks from different winemakers, with a first set of four wines bottled in June 2020. For more information, check their website.
Sopla Poniente contains an old Fino 'Cerro del Majuelo', a 70 years old PX 'El Coscojal' and two Amontillados 'San Roque' and 'El Coronel', both 30 years of age. Until now all wines come from the DO Montilla – Moriles.
We're trying the Amontillado San Roque which is bottled from a single cask at the sacristía of Juan Puig Vida. However its history goes further back, as it originated at the Bodegas Navarro, where the father of one of the Sopla Poniente partners worked. Navarro was sold to a new owner in 1995 and some of the best casks were taken over by their workforce.
The wine is made with Pedro Ximénez grapes from a 60+ year old vineyard. I believe half of the cask was bottled in June 2020 (350 bottles) with a second batch of 500 bottles in May 2021. The wine spent over 30 years in a solera system (and probably some time without refreshments as well).
Amontillado San Roque 30 (18%, Sopla Poniente 2021, 50 cl, 500 btl.)
Nose: the sharp side comes out first (lemony tang, bitter almonds, a bit of oak spice) followed by an underlying sweetness (caramelized nuts, dried apricots and figs). It shows a great combination of roundness, juicy fruits and intensity. Clear yeasty notes in the background, as well as a kind of aromatic oaky note, similar to what you sometimes get in brandy. Also walnuts and a faint hint of tobacco. Pretty excellent.
Mouth: wow! A lot of lemon juice, grapefruit peels and bitter almonds. Caramelized nuts in the background, as well as a hint of charred oak. Acidity is high, but there's also a firm saltiness that keeps coming back. The saltiness is really impressive and on the first day, I even found it too much to enjoy, as if someone dropped a spoonful of salt in my wine. However after a couple of days (and served at a higher temperature) the wine seemed to gain balance. Warm oak and spice in the finish – this is definitely a concentrated potion.
Availability: a small outturn of course, so it's hard to find. New wines are on their way though. Around € 35.
Summary: A very powerful Amontillado. As often with these old wines, there is an overwhelming salinity and acidity. Luckily there is a generous rounded, caramelly side (airing helps to bring it out), resulting in a complex, intense and recommended Amontillado.