Amontillado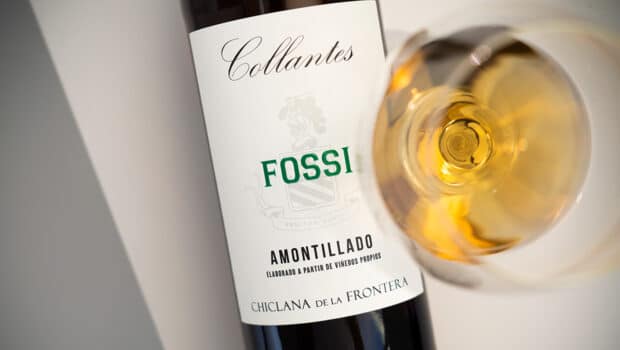 Published on July 28th, 2021 | by Ruben
0
Amontillado Fossi (Collantes)
Fossi was recently given a new label, reflecting an upgraded market positioning
I reviewed the Amontillado Fossi many years ago when it still had the (slightly outdated) baroque label. Nowadays they come with clean white labels. I couldn't find an L-code on this bottle, but I assume it is a +/- 2020 bottling. Time to review the wine again.
As you know Collantes is a bodega in Chiclana, the south part of the D.O. Jerez-Xeres-Sherry, in the production zone of the sherry region so outside of the sherry triangle. However in the near future they will probably be allowed to market their products as 'sherry' as well.
Until recently, Fossi was labeled as an Amontillado Fino, now simply Amontillado. The wine is aged for around 5 years under flor and then another 8 years oxidatively. As often in the sherry region, reliable figures are difficult to find, but in any case I believe it gained some age in recent years.
Amontillado Fossi (17,5%, Collantes)
Nose: much better than how I remember it. A really nice yeasty, animal touch, like a wet dog fur. Hints of haybales, seaweed and subtle flor bitterness, but also rounder, buttery toffee with walnuts and hazelnuts underneath. Some wet chalk in the backround, echoing its Fino origins. Toasted almonds, bread crust and saline notes. Just a hint of varnish and tobacco. Really complex and attractive.
Mouth: a really crisp, sapid onset with plenty of salinity and herbal notes. Acidity is quite high, with plenty of finesse. It quickly gets rounder and warmer though, showing more nutty notes again (hazelnuts, bitter almonds) as well as some fruity echoes. Dried grass and fennel seeds. Just a hint of orange peel. Warm wood and hints of varnish in the very end.
Availability: around € 12 in Spain, closer to € 18 in other markets. I found mine at Xpertvinum but you'll also find it at Bodeboca for instance.
Summary: A really attractive wine, with a perfectly judged balance between its Fino pungency and Amontillado warmth. Reasonably light but still really complex. Highly recommended.