Amontillado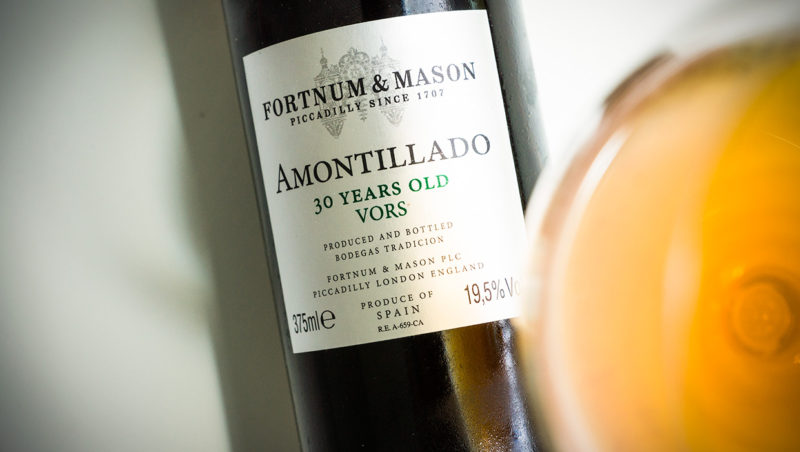 Published on November 19th, 2015 | by Ruben
0
Amontillado VORS (Bodegas Tradición)
An excellent Amontillado presented as a Fortnum & Mason exclusive
Fortnum & Mason is a luxury department store established in London in 1707. It focuses on exotic and specialty products and they have an extensive wine & spirits section. In 2005 they partnered with Bodegas Tradición for a range of own-label sherries.
This Amontillado VORS for Fortnum & Mason is around 45 years old. To assemble their current Amontillado solera, Bodegas Tradición collected 19th century butts from different bodegas like Bobadilla, Croft, Osborne (a few barrels from the solera 51-1a) and Delgado Zuleta. This means it contains wines from all three key cities of the sherry triangle, now incorporated in one big solera maturing in Jerez.

As Bodegas Tradición kindly confirmed to me, their wines for Fortnum & Mason are basically from the same sacas as their own bottlings, with the exception of their new Fino and brandy releases which are unique to F&M. Since the start of the cooperation, different releases have been made available, depending on the demand.
Amontillado V.O.R.S. for Fortnum & Mason (19,5%, Bodegas Tradición, L-12152)
Nose: a wonderfully fragrant ensemble of almonds and toasted hazelnuts, leather and beeswax. Traces of dried apricots, orange peel and honey. Polished oak. Touches of canvas. There's also a certain saltiness, like salted caramel. Hints of mocha and pastry. Quite spectacular, very elegant and inviting.
Mouth: intense, with a sour and salty attack. Its sharp edges are rounded by oranges, vanilla and a hint of marzipan. Salted almonds. Lemon juice, or rather ponzu sauce. Its racy backbone really hints towards Sanlúcar, in my opinion. Few tannins considering its age, with a very supple, almost velvety texture. Long finish, with the acidity and the varnished oak staying strong.
Availability: exclusive to Fortnum & Mason in the UK. Around € 35 for a half bottle. Not cheap but definitely worth it. The regular version can be found at Lavinia, The Whisky Exchange or Master of Malt for instance.
Summary: Altough I love the Palo Cortado and Oloroso, I think the Amontillado is my favourite wine in the core range of Bodegas Tradición. It comes highly recommended.