Amontillado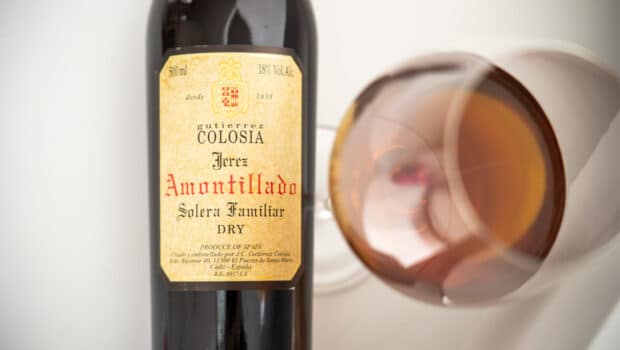 Published on December 17th, 2021 | by Ruben
0
Amontillado Solera Familiar (Gutiérrez Colosía)
The Solera Familiar holds the oldest wines from Gutiérrez – Colosía
Solera Familiar is the premium range from bodegas Gutiérrez – Colosía. These are the wines from their Sacristía. The series contains four wines of over 50 years of age, although I must admit claims are really going in different directions (up to 80 years even, but some seem to be referring to the foundation of the solera rather than the average age of the wine).
I'm afraid this is a common issue with wines from the sherry region, and Gutiérrez – Colosía aren't really helping by having an outdated website with little or no information on their wines (this wine isn't even mentioned at all). The relatively shy ABV of 18% doesn't really meet the expectations for a 50 years old Amontillado, and it's also quite surprising that their younger Amontillado, which is claimed to be around 8 years of age, has exactly the same strength. This bodega doesn't seem to believe in VOS / VORS certificates either, so there's nothing to justify the claims.
The Fino sherry from Gutiérrez – Colosía (around three years of age) is used as the starting point for the Amontillado solera, which then ages further into the standard Amontillado and eventually to this Solera Familiar version.
Amontillado Solera Familiar (18%, Gutiérrez Colosía, 50 cl, L1)
Nose: quite dark and concentrated, coming close to an Oloroso, with very few biological / coastal elements to be found. Plenty of nutty aromas, like hazelnut and almond. Hints of cocoa, raisins and leather. It even shows a faint hint of polished oak and brandy-like volatility, which also hints towards Oloroso. Orange peel, clove, dried herbs and hints of cigar boxes.
Mouth: very dry, showing a rather piercing attack with high acidity and some herbal bitterness, now more classically Amontillado than Oloroso. Bright citrusy notes, lots of saline hints as well (El Puerto character of course). Hints of burnt caramel and toffee. Some eathy, woody notes in the background. Very pronounced flavours – overall a polished but rather firm footprint.
Availability: limited, typically around € 70. I got mine from VerySherry.be, a rather new sherry shop here in Belgium.
Summary: In general I think Colosía's wines have an oxidative tendency, so this Amontillado is shifted a little towards Oloroso (the same goes for their Palo Cortado). That said this is a very seductive wine with a high acidity to balance the oaky age. A bit of an outsider perhaps, but really good.