Amontillado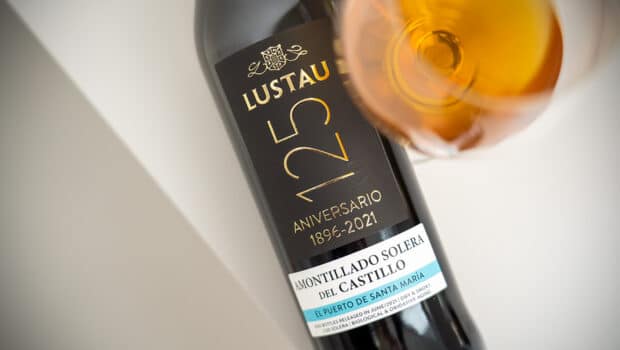 Published on February 25th, 2022 | by Ruben
0
Amontillado del Castillo (Lustau 125th Anniversary)
The Amontillado del Castillo 1|38 is the most recent addition to the Almacenista range from Bodegas Lustau. It had been maturing for decades but was not released until 2019. Now there's an older version in Lustau's 125th anniversary collection.
The wine matures inside the medieval castle Castillo de San Marcos, probably the most emblematic building in the city. Once a Roman church, then an Islamic mosque, it was later turned into a fortress that housed King Alfonso X 'El Sabio'. Even Christopher Columbus lived there for a while. The Caballero group owns the castle since many years and manage it as a conference and event centre. It also houses a small number of sherry casks.
An older version of the already impressive Amontillado del Castillo, very complex and intense
El Puerto de Santa María has a moderate climate compared to Jerez. This is a crucial element in the balanced development of the Amontillado del Castillo. More interestingly it comes from an inverted solera, with the oldest casks at the top instead of near the floor. As it is slightly warmer towards the ceiling, you get an increasing level of concentration as it becomes older. Talking of concentration: this wine has been ageing for 17 years in a static way, with no addition of fresh wine.
The Almacenista 1|38 bottling is composed from the first criadera – the second oldest layer of casks in the solera system. However this edition comes from the oldest solera row, which contains only 20 barrels. The average age of the 125th anniversary version is around 30 years.
Amontillado Solera del Castillo 1|20 '125 Aniversario' (21,5%, Lustau 2021, 2500 btl.)
Nose: so complex and inviting. The varnished notes are gorgeous – one of the typical things that make me like old Amontillado so much. Exotic, precious woods mingle nicely with dried apricots, orange peels and crystallized fruits. You also get fragrant herbs, fruit oils, subtle vanilla and more oxidative notes like toffee and nougat, even a hint of soy sauce. Just a hint of iodine and brine in the background. Leather and tobacco leaves. It's fairly high in alcohol (with a brandy-like edge) but I find this makes it really jump out of the glass. It's wide and full of small nuances.
Mouth: dry with a pronounced intensity and energy, but also a rounder hint of glycerine. A peppery attack, lots of saline notes and above average acidity. Then burnt sugar and butterscotch, more orange zests and a little candied ginger. Assorted nuts. A little green olive brine. Polished oak comes to the fore in the finish, leaving a warm and toasted, almost smoky echo.
Availability: only available as part of the 125th Anniversary pack. The case with three 50 cl bottles costs € 125, available from Lustau's webshop or through distributors around the world.
Summary: What a superb Amontillado. It's really potent and a great advocate of the coastal climate in El Puerto. On the other hand it is also highly seductive, with superbly waxy, polished wood notes and underlying fruits. A masterpiece!