Amontillado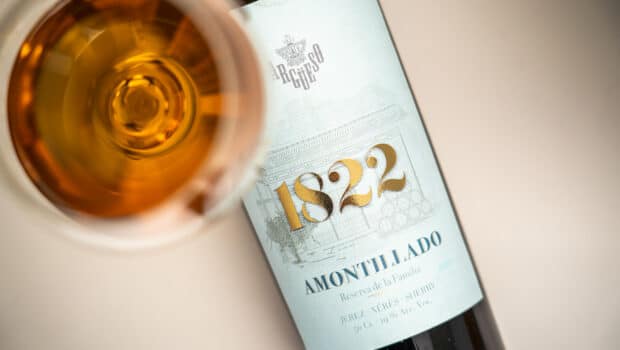 Published on June 18th, 2021 | by Ruben
0
Amontillado 1822 (Argüeso)
The 1822 series is Argüeso's new premium range, featuring older wines – the name refers to the foundation of the bodega. In 2016, Argüeso was acquired by Bodegas Yuste and after the acquisition they gave this wine a contemporary visual update. At the same time in 2019 they expanded the range.
There used to be a very old Amontillado 1822 in the past (at 21.5% ABV), which was said to be over 30 years of age. This new wine is a blend of barrels from the 1st and 3rd criadera of this solera system, located in the atmospheric bodega Los Angeles in the Barrio Alto of Sanlúcar. The new version comes at 19% and it is said to be over 20 years of age. It is characterized by a long biological ageing period under flor, before moving to the oxidative stage.
Amontillado 1822 'Reserva de la Familia' (19%, Herederos de Argüeso, L19)
Nose: a textbook Amontillado nose with a generous dose of iodine-laden sea spray from Sanlúcar. On the other hand also dried apricots, caramelized hazelnuts and light hints of toasted wood with a smoky undertone. Nicely aged, with some leathery touches, orange peel and exotic spices too. Underneath you can still pick up the biological ageing.
Mouth: quite assertive, with a pronounced lemony acidity as well as some olive brine and light bitterness (dried herbs) that comes out. Walnuts and roasted hazelnuts. Fresh, with a good punzante character, evolving towards drier, leafy notes in the end. More herbal in the finish, with a prominent salty touch.
Availability: around € 14 in Spain, see Bodeboca for instance. You can also check Master of Malt for UK / international shipping.
Summary: This Amontillado 1822 is a great example of the briny, tangy Amontillado they produce in Sanlúcar, marked by biological ageing. A really coastal wine with above-average concentration and complexity. Really beautiful.