Amontillado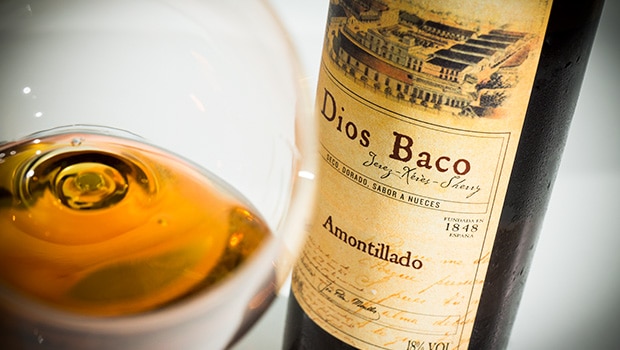 Published on June 5th, 2015 | by Ruben
1
Amontillado (Dios Baco)
The Amontillado Dios Baco is around 19 years old
This Amontillado is part of the core range from Bodegas Dios Baco. It starts as a Fino and after +/- 9 years, the flor is killed by fortifying the wine. It then moves into an oxidative phase and matures for another 10 years before being bottled.
It means this Amontillado is almost 20 years old, but not enough to get the V.O.S. label (and ask a higher price). In general, these wines are very interesting: they're old, but not enough for the official categories, so they're relatively affordable.
Amontillado (18%, Dios Baco)
Nose: very gentle, but nicely rich and aromatic. Caramelized nuts, oriental pastry, almond cream and orange peel. Golden raisins. There's still a trace of Fino underneath, but barely noticeable. It's coated with hints of polished wood and beeswax, which is great. As usual with older Amontillado, I prefer this one a little less chilled.
Mouth: a very silky entry, dry but still very round. Almonds, hazelnuts and an implied sweetness of dried apricots and raisins. Soft citrus. Baked fruits. After a while, it turns to slightly darker notes, with hints of toffee and mocha roast.
Availability: around € 10 from the bodega. You'll pay almost double outside of Spain, but even then the price/quality ratio is really good. Too bad it can be difficult to find.
Summary: Dios Baco's Amontillado is wonderfully smooth and silky, with a great elegance and complexity. A nice example of an older Amontillado at a remarkably affordable price, if you're able to find a bottle.