Amontillado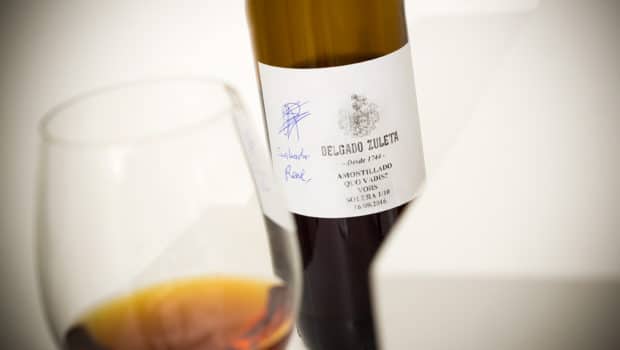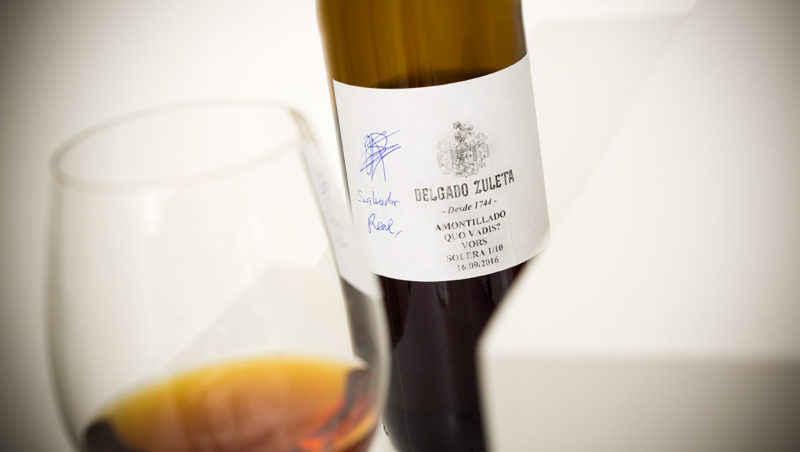 Published on October 21st, 2016 | by Ruben
0
Quo Vadis? Amontillado VORS (Delgado Zuleta)
Quo Vadis? is a wine that originated at Benito Rodríguez – Lacave, a now defunct bodega that was merged in 1978 with Delgado Zuleta, one of the oldest bodegas in the sherry region. It has taken over most of the Lacave wines (other examples include the Manzanilla Barbiana).
Although Delgado Zuleta produces most of its wines in modern premises just outside of Sanlúcar, on the road to Chipiona, they also maintain a few really old bodegas in the town centre. In one of these bodegas of the Barrio Alto matures the Amontillado Quo Vadis?.
This wine is one of the strangest experiments that have come out of the sherry triangle. It originated as an uncommon sobretabla: the grapes were sourced entirely from young vines in the pago Miraflores, and it was fermented in new oak casks, highly uncommon for the region (as flor doesn't grow when there are too much oak tannins). Rodríguez – Lacave couldn't find a buyer for this peculiar wine but he was too proud to sell them below the market price, so he decided to lock them up in the cellar of his house. After many years the wine contained lots of oak tannins but also displayed a surprising elegance and a clear influence of biological ageing (even without the periodic refreshing).
Quo Vadis? is one of the most peculiar, enigmatic wines of Sanlúcar
Quo Vadis? used to be sold as an Amontillado Viejo without age statement, bottled at 18,5% with traditional labels that prominently mentioned the name of Rodriguez – Lacave. Recently Delgado Zuleta modernized the label (in line with its Goya XL), moved to a 50cl bottle and decided to register its wine for a VORS age statement. Carbon 14 dating shows the wine is close to 50 years of age.
Delgado Zuleta has another, younger Amontillado on the market, the Amontillado Fino Zuleta. Although both have separate solera systems, they are refreshed with the same Manzanilla Pasada, a Manzanilla that is even older than Barbiana or La Goya.
This wine is featured in the #SherryTT Twitter Tasting 2016 and we have the previlege of trying a unique saca done especially for this occasion. Winemaker Salvador Real kindly provided two bottles of Quo Vadis? taken straight from the cask on 16th of September 2016 without additional treatment. This is a unique opportunity – we can't get any closer to trying this wine in situ.
Amontillado Quo Vadis? V.O.R.S. (+/- 20%, Delgado Zuleta, 1|10, saca of 16 Sep 2016)
Nose: quite immense. There is a clear influence of biological ageing and saline notes, including subtle hints of petrol. On the other hand it also shows a lot of vanilla and polished furniture. Hints of orange honey. Caramelized hazelnuts and candied ginger. Mocha and dried coconut as well. Cedar oak and exotic curry. A slight perfumed edge, maybe a hint of lavender. Subtle nutmeg. Very complex.
Mouth: wow. Very dry and penetrating, indeed with a tannic presence that I've never found before in sherry wines. The brine and salty character of this wine really bites you. Despite the oaky sourness and spiciness, there's also a very fresh minty side. Peppery notes. Walnuts skin. Grapefruit juice and citrus peel. Pipe tobacco and leathery notes towards the end. A long, saline aftertaste with bitter notes.
Availability: very hard to find, almost impossible outside of Spain. Prices range from € 70 to € 95 for a 50cl bottle, check Bodeboca for instance.
Summary: This highly idiosyncratic wine is a bit of an archeological artifact. Highly aromatic and elegant on the nose, highly incisive and pungent on the palate. A powerful saline giant that could only have been made in Sanlúcar. Not for the faint-hearted but a must-try for sherry lovers.