Background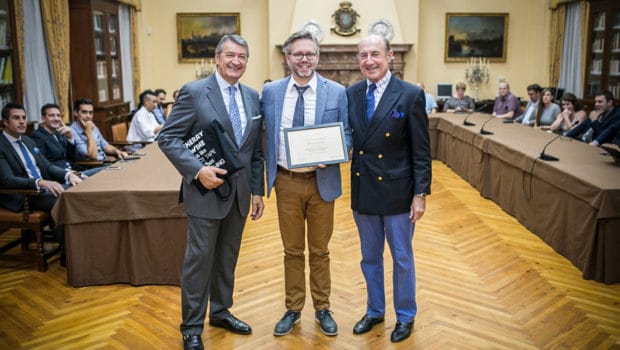 Published on October 16th, 2018 | by Ruben
0
Certified Sherry Educator course
The Consejo Regulador (regulatory office) organizes a Sherry Educator course each year. It is a 3-day programme which includes several theoretical sessions explaining the history, viticulture, winemaking, ageing process… There are also three tasting sessions and visits to several bodegas in the three key cities of the sherry triangle.
In September 2018 I took part in the programme and became a Certified Sherry Educator. I'd like to share some of the highlights of this superb experience, which made me fall in love with Andalucía and its people even more.
Day 1: Lustau
Travelling to Jerez is often not easy: direct flights exist from a few German cities, but you'll usually have to pass by Madrid to get there. Participants were arriving at different times, and I missed the afternoon guided tour at Lustau. Luckily this was optional, and I already visited Bodegas Lustau last year.
The official programme started later in the evening, when we were transferred to the Castillo San Marcos in El Puerto de Santa María. This 12th-century castle was built by King Alfonso X on the site of a Mosque. It was even inhabited by Christopher Columbus at one point. Next door to the Castle, there is now a bodega of the Grupo Caballero (owners of Lustau and other brands) where they mature a specific solera Amontillado del Castillo.
We had a theoretic session about the history of sherry, followed by a tour of the castle and a delicious dinner accompanied by several Lustau wines. It confirmed what we knew already: Lustau is a very reliable brand with high quality products accross a wide range. I'm glad I could retry some of my favourites, like the Palo Cortado Cayetano del Pino and the Añada 1998.
Day 2: La Canariera
Day two had the heaviest programme by far. We started at the Consejo Regulador for an informative session on sherry viticulture. Then we headed off to Viña La Canariera, a vineyard in the pago Carrascal operated by González Byass. Here José Manuel Harana (vineyard manager) explained us the pruning techniques, soil and grafting methods used in the region.
This led to a session on vinification with an in-depth look at ageing with flor (biological ageing). Interesting to look at ageing from a chemical perspective and seeing the impact of maturation on the levels of acetaldehydes, glycerol, alcohol, acidity and other elements.
This was followed by a tasting of dry wines, in the (unexpected) company of Antonio Flores, the wonderful winemaker for González Byass. This included trying the fresh mosto, sobretablas and criaderas of the benchmark Fino Tio Pepe, Amontillado Viña AB and Oloroso Alfonso. The tasting ended with the exquisite Palo Cortado 1987.
Day 2: Valdespino
After having lunch in the former vineyard worker's house we were transferred to the Grupo Estévez (of Valdespino, La Guita and Real Tesoro). They have a very modern and advanced winemaking facility, perfect to show us the vinification process in practice. We were able to see the grape intake and fermentation tanks. Meanwhile we tasted the cloudy new Macharnudo wine that was being fermented, as well as a glass of Fino Inocente directly from the barrel. We also passed through the impressive bodega which holds the soleras of Inocente, Tio Diego and so many other wines.
The visit ended with a tasting of sweet sherry. I prefer the dry ones, but Valdespino is keeping its sugar levels low. Some of their wines are the most balanced wines in the sweet category, like Contrabandista, Cream Ideal or Moscatel Promesa.
Day 2: Barbadillo
The day wasn't finished. After a quick rest we headed to Sanlúcar where we were welcomed at Barbadillo. We saw the wonderful bodega La Arboledilla – a perfect example of how the architecture of bodegas helps and improves the wines that are matured inside. We also had a glass (or two) of Manzanilla Pasada Solear straight from the barrel. Impressive, as expected – this is one of my favourite Manzanillas.
We then moved to the Bodega del Toro, a small building built in 1660 with a typical early plan (patio with four naves). This is the birthplace of the Barbadillo brand. During a  tapas dinner we were able to try Barbadillo's immensly popular Palomino table wine Castillo de San Diego, which failed to impress among so many great fortified wines. However I'm a big fan of their outstanding sherries like the Manzanilla Pasada Pastora or the Principe de Barbadillo Amontillado 12 Years. This bodega is a must when you're in Sanlúcar.
Day 3: Tradición and sherry exam
In the Consejo's presentation room we started with a session on the Denomination of Origin and the ageing process, including the solera system and the VOS / VORS age statements. This was immediately put into practice with the tasting highlight of the programme, a VOS & VORS tasting. We could try an impressive line-up of nine wines totalling well over 250 years. My personal favourites were the Fino Imperial (Diez-Mérito) and the Oloroso VORS (Tradición) but all wines were truly excellent. Too bad there wasn't enough time to properly get to the bottom of each wine: the bus was waiting to bring us to Bodegas Tradición.
Bodegas Tradición have a unique place in Jerez: basically a young boutique bodega, but built upon existing (very old) soleras with exquisite wines. It was really interesting to be able to try three stages of the Amontillado VORS straight from the barrel, from its starting point until the final wine. Great to see how traditional methods are still being used by this bodega, like the manual rocío. Equally impressive is the art collection, spanning several centuries of Spanish painting. In fact this is one of the most important private collections in Andalucía. We then moved through the annex bodega which houses the recently created Fino Tradición, to have lunch in the shade of the patio.
Final exam at the Consejo Regulador
After returning to the Consejo, I could see people getting nervous as our knowledge was about to be tested in an exam with two parts. There's theoretical side (around 35 questions) and a practical side (trying a series of wines blind, and name their style, plus writing tasting notes for one). Not an easy task – slightly messed up by a few misplaced blind samples, oops… As everyone is supposed to have a basic knowledge about wine and sherry before starting the Sherry Educator programme, everyone passed. We concluded the experience with a certificate ceremony and a closing dinner at the bodega San Ginés inside the Consejo Regulador.
Becoming a Sherry Educator
Becoming a certified Sherry Educator was a goal I had for a long time. However the programme is primarily aimed at people working in the wine-related training activities (sommeliers, restaurant managers, WSET educators, wine writers…). Most of the participants are introduced or even sponsored by a bodega, which was not the case for me. There are always more requests than available places for the programme so they have to keep high standards.
Finally being there was a wonderfully enriching experience. The programme is perfectly organized, with some of the most knowledgeable people leading the sessions, most notably César Saldaña, the director of the D.O. Jerez-Xérès-Sherry, and Beltrán Domecq, president of the Consejo Regulador. Add to this some great lunches and dinners, trying over 50 different sherries and meeting the lovely people at the different bodegas and other sherryheads from around the world. Needless to say I enjoyed every minute.
There are only a handful Sherry Educators in Belgium. If you're looking for a certified host for a tasting (whether an introduction to sherry or a high-end VORS tasting) or someone to help you improve the sherry experience in your restaurant, you know where to find me. I'm now trained to turn you into a sherry lover!
Other educational programmes
Interested in becoming a Certified Sherry Educator yourself? Check the information on the website of the Consejo Regulador.
If you're not a wine professional, you might want to check the Sherry Academy instead, which offers an online sherry course (basic / advanced level) that was based on the Sherry Educator programme.
Another option is the Sherry Journey programme by Bodegas Lustau, which allows you to become a Certified Sherry Wine Specialist (CSWS). González Byass has a similar initiative called Sherrymaster.