Cream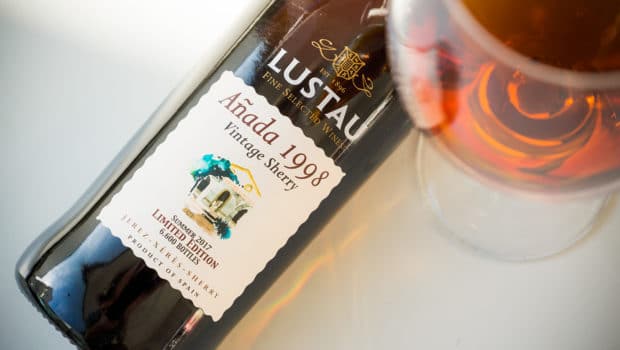 Published on April 4th, 2018 | by Ruben
0
Añada 1998 (Lustau)
In the summer of 2017 Bodegas Lustau released two new vintage sherries, seven years after their previous vintage 1997. Technically this Añada 1998 is produced in the same way as the Rich Oloroso 1997, but due to new regulations they can't call it Oloroso Abocado any more.
Made from Palomino grapes harvested in their Montegilillo vineyard (in the pago Carrascal), the fermentation was halted early (through fortification), preserving some of the sugars in the grape juice. Being naturally sweet (around 160 grams of sugar per litre) the official category is Dulce sherry (as opposed to Cream which is a blend of dry and sweet wines). The resulting wine is closest to an Oloroso of course, but even this name is now off-limits because true Oloroso is dry. It is aged in a static, oxidative way in sealed barrels which previously contained Oloroso sherry.
Being a rare vintage sherry, the Añada 1998 is a limited edition of only 6.600 bottles. A big part of it was sold in the UK market, perhaps due to its significantly lower yield, less than half of the 1997 production. The Wine Advocate gave it 93 points.
Añada 1998 (21%, Lustau 2017, Limited Edition, 50 cl)
Nose: lots of sultana raisins with almonds and honey coated hazelnuts. Dried figs, hints of candied ginger. Orange peels. Thyme syrup. Some toasted hints as well, even the smoky notes that we also had in the 1997 vintage.
Mouth: sweet, but not too heavy or cloying. It's smoother and more refined than a Port wine, perhaps closer to Madeira due to the balanced acidity. For a sweet wine this is very elegant. Again there's a hint of vanilla and warm oak. Honey. Hints of cocoa. Some peppery notes as well.
Availability: around £ 20 in the UK, from Marks & Specer among others. Around € 25 in Europe, see Vila Viniteca for instance.
Summary: The balanced acidity and oakiness make this a fairly complex and very elegant sweet sherry. Excellent with cheese or desserts, but perfectly enjoyable on its own. Another great wine in Lustau's vintage series of sweet Oloroso sherry.