Background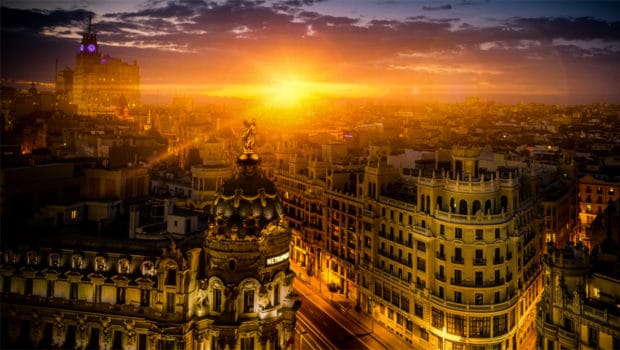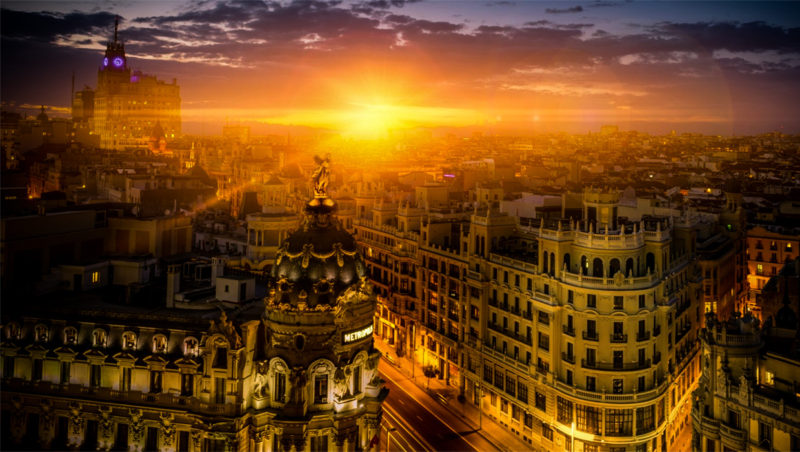 Published on May 2nd, 2017 | by Ruben
3
Sherry in Madrid
It would be logical to say that Jerez and the other cities of the sherry triangle are the center of the world when it comes to sherry wines. Sure. However the list of bars, restaurants, shops and events that are promoting sherry in the Spanish capital Madrid is so impressive that it would not be difficult to claim they are leading the current sherry revolution.
A couple of days ago, I visited Madrid with some friends – we're all part of a 'tasting club' so the main goal was to discover the city, its gastronomy, food and drinks. I'm not a food blogger but having lived there for over two years, this city is close to my heart and I'd like to share a few of my experiences with you, all of which involve sherry at some point.
Angelita Madrid
Calle Reina 4 – 28004 Madrid – www.angelita-madrid.es
A wine bistro with one page of food and at least fifty pages of excellent wines in its menu, that basically sums up Angelita. Tons of wines are available by the glass and a lot of them are sherries. Sommelier and co-owner David Villalón certainly knows his wines, and I've rarely ever seen a sommelier being so co-operative and flexible – giving him carte blanche is the best you can do. We explained our love for sherry, local grapes, Albariño, volcanic soils… and he came up with brilliant wines.
Some of the highlights: Baboso Negro from Ignios, Carralcoba 2015 from Eulogio Pomares, Peña Caballera Garnacha 2011 from Bodegas Marañones, Manzanilla Pastora En Rama (from a rare and very fresh Magnum) and many more. The dishes were memorable (I should mention a great ox tongue, slow cooked veal cheeks, a wonderful asian-style salmon dish and nice cheeses) and we had two wines head-to-head with every dish – a great idea. Also, their price is often lower than what we pay in Belgian shops for the same bottles… if we manage to find them, that is.
Downstairs Angelita is also a cocktail bar and spirits lounge. Being long time whisky lovers as well, we couldn't resist a Glenlivet 1965 (4 cl for € 17), Macallan 1972 Speymalt, La Bota de Brandy 43… What a lunch! If you're serious about wines in general, and a sherry lover in particular, this is a must in Madrid. I would say the critics haven't discovered it yet, so don't wait too long. Stunning place.
Restaurante Gaytán *
Calle del Príncipe de Vergara 205 – 28002 Madrid – www.chefjavieraranda.com
Gaytán is the second restaurant owned by the young chef Javier Aranda, after La Cabra. Both have one Michelin star, but I have a feeling he's focusing more on Gaytán at the moment. Dining there was a mind-blowing experience that started at 9 PM and ended after 2 AM (in Madrid this means walking back to the hotel…). In the big menu, there are 17 dishes that are packed with flavours from Spanish, Mexican, Peruvian and asian cuisines.
Some of the highlights were a plate of different pea textures / temperatures, a plate of red mullet wrapped in banana leaf and flambéed in a mixture of bourbon and Cointreau, the main course with milk lamb, and the wonderful homemade mead. Exquisite: none of the courses was just good, they were all truly excellent. Suffice to say my company experienced a fair deal of Michelin stars in the past, yet we were all blown away.
The restaurant is like a theatre, with the oval open kitchen as a center stage and all tables lined up around it. At a table for two you'll sit next to each other, everyone is constantly watching the kitchen where Javier is the director of a well-trained team. Here as well, the sommelier presented us with outstanding wines, starting with a Manzanilla Sacristía AB (the Saca Especial that commemorated the 50th anniversary of the D.O. Manzanilla, another magnum bottle) and then some Viña Tondonia 2001, the Vijariego Negro 2014 from Ignios… ending with a Silval 2000 vintage Port.
Update: Gaytan a few years later…
I returned to Gaytán in October 2019 and while the food was still on a high level, the wines were not. The pairing started with a rosé sold for € 5 in Carrefour. We then got Manzanilla Papirusa, El Maestro Sierra Amontillado and Nectar PX among others. These are not bad wines but not Michelin star level either. Disappointing to say the least. When I asked them about the noticeable change, it turned out their previous sommelier left for Hong Kong. This left a great mark on the overall experience and it's something they should address urgently. Also (several) mistakes against allergies should not be happening at this level…
La Hora del Vermut / The Sherry Corner (Mercado San Miguel)
Plaza de San Miguel (stand 22-25) – 28005 Madrid – lahoradelvermut.wordpress.com
La Hora de Vermut is a great place for vermouth lovers. It's a tiny bar but they have several dozens of different vermouths on offer, four of which on tap. We had some great ones, but my favourites were probably Lacuesta Edición Limitada (a classic from Rioja), Petroni Red (a long-time favourite, based on Albariño from Galicia), Roxmut (based on cider from Asturias) and Dos Deus Reserva Única. They also serve sangría, sidra and rebujito – obviously they also serve a lot of the new sherry-based vermouths.
In the next stand you'll find The Sherry Corner (from the same people I think), where they serve five sherries from the barrel and another twenty or so by the glass, including the excellent range from Bodegas Tradición. I'm always looking for new discoveries, which is why I personally didn't order anything this time, but it's a nice sherry bar that I'd still recommend. Order your wines by the glass though, I'm not a fan of the audio guide tasting idea.
Update: it seems they ditched the sherry. Still a nice place to get acquainted with Spanish vermut.
Territorio ERA (Mercado Barceló)
This place closed in 2018, too bad…
On Saturday I met up with the wonderful Andrew Ward of Undertheflor, sherry blog par excellence especially when it comes to the Madrid scene. Territorio ERA is located inside the Mercado Barceló, an authentic Spanish food market. Owner David Trillo (ex-sommelier in different places) and his chef Diego Benito (who worked with Alberto Chicote and David Muñoz) met at Nikkei 225 and now started their own project.
Territorio ERA is fairly small and has a bit of an odd setting among neon-lit butchers, fishmongers and pasta places, but they serve tasty tapas and fusion food (Thai-style Callos Madrileños, tuna in banana leaf and the tastiest tomato I've had in years). Add to this around 100 wines available by the glass (many of which are sherries, with a focus on the new developments) and you know you're in for another long and interesting lunch.
Sherry wines we had at Territorio ERA
A few of the things we had in our glass…
Fino En Rama Añada 2009, bottled February 2017 by Williams & Humbert. It's sweet and nutty, nice but somehow not as impressive as some other vintage Finos from the same house. Perhaps we needed to order another, fresher bottle…
Fino Capataz 'Solera de la Casa' from Bodegas Alvear. The oldest Fino from the oldest bodega in Andalusia. Around ten years old, with great depth and finesse, hay bales, slightly toasted aromas, lots of nuts, herbs and a fatty texture. Very good. A bottle is around € 15.
Encrucijado 2014 made by Ramiro Ibáñez. Simply a top wine, somewhat sharper than the first expression, but still with this loverly buttery texture.
Manzanilla Velo Flor, a composition of different barrels bought from existing soleras owned by Pedro Romero and others, and now making up a new solera at the new Bodegas Alonso. Very impressive, maybe it doesn't feel as old as they're claiming it is, but still a very solid entry in the market. Make sure you remember the name of the bodega.
We also had an old Oloroso in which some orange peel and herbs were macerated, bottled by Mar 7, a wine shop / bottler in Sanlúcar. A great digestif, in between a vino de naranja and vermouth. A tradition that goes back a long time by the way.
Media Ración by Cuenllas
Hotel URSO, Calle Mejia Lequerica 8 – 28004 Madrid – www.hotelurso.com
We also had a quick stop in Media Ración, a new place related to Fernando Cuenllas, just around the corner from the Mercado Barceló. They have 80 wines by the glass but as we went for the bar Andrew specifically ordered the new La Bota de Palo Cortado 72 'Pata de Gallina' from Equipo Navazos. This brand-new edition of the #34 comes from the finest barrels from the small almacenista Juan García Jarana, now stored at Bodegas Fernando de Castilla. It's a lovely round, glyceric Palo Cortado with plenty of polished furniture on the nose, caramels, citrus. Very aromatic with an excellent balance. The average age is around 30 years. Highly recommended.