Manzanilla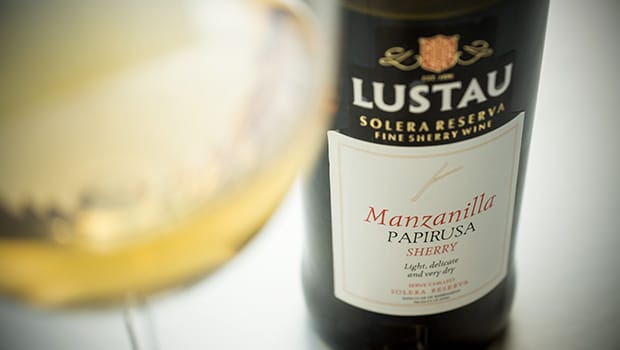 Published on January 3rd, 2014 | by Ruben
0
Manzanilla Papirusa (Lustau)
This is Lustau's standard Manzanilla: light and very dry
Manzanilla Papirusa is part of the Solera Reserve range from Bodegas Lustau. These wines come from old soleras mostly founded or acquired from 1900 until the 1930s. It is produced for Lustau by Bodegas Cuevas Jurado, which also provides wines for Lustau's Almacenista range. At the time of bottling it is said to be around 4,5 years old.
As a side note, I love the fact that it is available in half bottles. It's just the perfect size for a meal with one or two people.
Manzanilla Papirusa (15,5%, Emilio Lustau)
Nose: a balanced nose with aromas which point to a slightly higher age (as the golden colour already indicates). Walnut husks, chamomile and meaty hints of bacon fat. Candied orange peel. Quite a soft yeastiness. Cashew nuts, almonds and a hint of green banana. Nice but soft and a little restrained.
Mouth: more open now, dry and clean. It shows a saline side, but in the end I think it's more about almonds and apples than about coastal flavours. Marzipan. Evolves towards briny and herbal notes, with a very light zesty bitterness and tangy olive juice in the finish.
Availability: easy to find in countries all over the world. I've paid € 7 for a half bottle. Full bottles are around € 13.
Summary: A good, typical Manzanilla, a tad light with medium complexity. A decent wine but I prefer the Manzanilla Pasada from the same bodega, which is only slightly more expensive. Or La Ina, which is cheaper.