Fino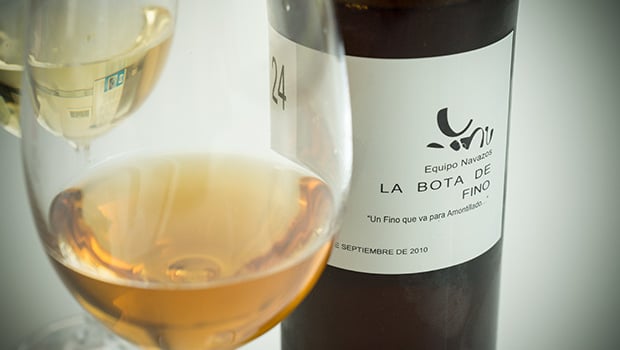 Published on January 21st, 2014 | by Ruben
0
La Bota de Fino n°24 (Equipo Navazos)
La Bota de Fino n°24 is a Fino at the edge of becoming an Amontillado
Fino Amontillado is a category that has virtually disappeared these days, as the name itself is not allowed any more by the rules of the D.O. Jerez-Xérès-Sherry. It sits in between a true Fino and a true Amontillado, displaying the aromatic character of both. Just like the similar Manzanilla Pasada style, these kind of hybrid wines are always a favourite of many sherry aficionados. You can tell by the colour of the wine that this is much older than a common Fino.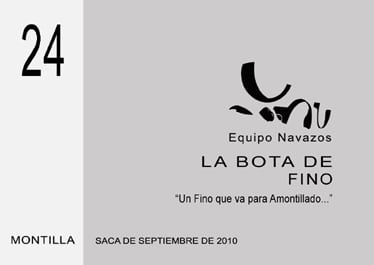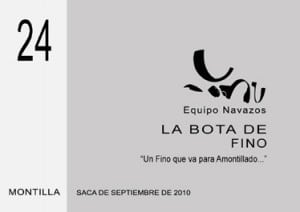 Equipo Navazos selected and composed this wine from the oldest Fino solera available at Bodegas Pérez Barquero in the neighbouring D.O. Montilla-Moriles. It's a solera of 63 butts, arranged in sets of three and located inside the Bodega called Los Amigos, of which they could choose the 13 barrels they considered most fascinating and singular. Those were the ones that showed most of the Amontillado character. Although the age of the wine is estimated above 20 years (!), there is no doubt this is still a Fino: the barrels still contained a layer of flor, though darkened and partly broken up already at the time of bottling in September 2010. Only 2600 bottles were made available and it was awarded 98/100 in the Guia Peñin 2011.
We're trying it with a few years of bottle ageing, just like Equipo Navazos suggests for their releases. The wine suffers from the bottling manipulations and needs some time to settle down.
There is now La Bota de Fino n°45 which is basically the same wine, 3 years later, bottled in June 2013.
La Bota de Fino n°24 (15,6%, Equipo Navazos 2010, 2600 btl.)
Nose: so intense! A very deep nose, with lots of flor notes and hints of stables. I love this kind of farminess. It brings up aromas of seashells and soft iodine, almonds, toasted bread and lovely exotic woods. Great waxy notes as well. Chalk. Tobacco leaves. Salted caramel. Complex and hugely elegant.
Mouth: expressive and intense. Halfway between the assertiveness of a Fino and the richness of an Amontillado, although it seems brighter and younger than on the nose. Lovely citrus acidity (Ponzu sauce) and mineral notes alongside toasted, savoury notes. Some toffee. Lots of finesse despite the briny intensity. Hints of polished oak and dried fruits. Nutty aftertaste with a long, softly bitter finish.
Availability: sold out in most places. Vinos.de still has some bottles available for € 50, or you can look for n°45.
Summary: I'd say this is a light Amontillado on the nose but still an old Fino on the palate, keeping an excellent and entertaining balance between two styles. A fascinating wine and one of the highlights in the La Bota series so far. Brilliant, just brilliant.