Fino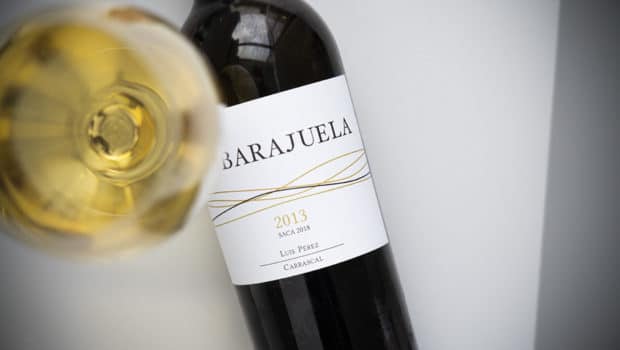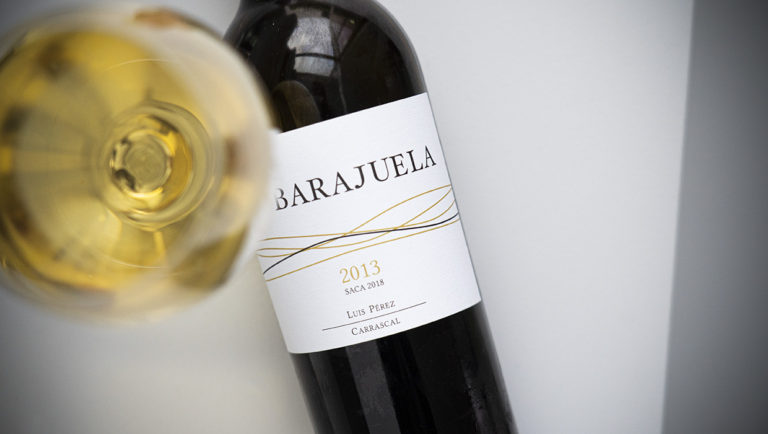 Published on January 9th, 2020 | by Ruben
0
La Barajuela 2013 – Saca 2018 (Luis Pérez)
It's hard to overestimate the importance of La Barajuela 2013 produced by Willy Pérez at his father's winery Luis Pérez.
Let's tell the story behind the wine again. In 2013 they bought the vineyard El Corregidor in the pago Carrascal (the furthest inland of the four great vineyard zones around Jerez). Originally owned by Sandeman, it was taken over by Nueva Rumasa in 2004. Within this vineyard there are different sub-terroirs, one being La Barajuela. This zone surrounding the vinification estate has a characteristic laminated type of albariza (a baraja is a deck of cards). Grapes are generally picked later than usual, in multiple passes: the first bunch is used for making a yet to be announced brandy, the second is used for the white wine El Muelle de Olaso, the third for La Barajuela and in the last pass(es) they collect slightly over-ripe bunches for Oloroso and Raya types of wines.
Palomino grapes for the La Barajuela (from 45 years old vines of the less productive clone 84) are then aged in the sun for a few days (asoleo) before pressing, in order to concentrate the sugars. This was common practice until the 1970s, even for Palomino grapes, but it's nowadays only used for sweet wines based on Moscatel or Pedro Ximénez. The juice is obtained by pressing the grapes by foot in open lagares or in an old press. After fermentation the wine is statically aged in old sherry butts that are filled to a higher level than the usual four fifths. Hence less surface on the wine for flor to develop. Of all casks filled, only one out of three has the finesse necessary for a palma wine which becomes a Fino.
Bringing back terroir in sherry wines
From a modern perspective the whole process is painstakingly labour-intensive as it is essentially going back to early 19th century traditions. The resulting La Barajuela Fino 2013 was the first Fino sherry (in modern history) made without fortification, obtaining the required 15 degrees thanks to its higher sugar level. It is also intended as a return to the terroir of sherry wines, limiting the influence of flor and allowing the specific soil and grape characteristics of one single vineyard to be expressed to the fullest. An approach that may be based on the past but very novel in the current-day sherry world.
In total 12 butts of this vintage were filled, so sister casks can be bottled when they are deemed ready. I already reviewed the first saca (bottling) of this Fino Barajuela 2013, bottled back in 2016 at a natural ABV of 15.3%. A second saca was bottled in 2017 (16%) and subsequent vintages were made along the same lines, as well as a multi-vintage blend called Caberrubia. Today I'm trying the latest Saca 2018 which has an ABV of 15%. It is now 4-5 years old and categorized as a dos palmas, on a scale of four which indicates the maturity of the wine.
Curiously it is no longer labeled as a Fino, nor as a sherry under the D.O. Jerez-Xérès-Sherry, it simply says vino blanco. With the recent news about unfortified sherry, I'm not sure why this is the case: like the previous (qualified) bottlings it seems to comply with all requirements.
All incredibly interesting, now let's think of a way to explain this clearly to someone who is not an expert in sherry. Ouch. For more information on these ancient styles of sherry, see my article Ancient sherry typology: Palma, Palma Cortada, Raya…
Fino 2013 – Saca 2018 (15%, Luis Pérez, L19, 37,5 cl)
Nose: mostly hints of straw, yeast and dried herbs coming out first, as well as some wax and iodine. The sweet fruity elements of the first saca have been pushed to the background, but they're still noticeable as a layer of stewed apple and quinces, as well as a light honeyed touch. A gentle nutty note as well. Definitely a more weighty, gluttunous style than standard Finos, showing less obvious flor notes but also nicely round elements.
Mouth: very wide, with a great burst of juicy fruits now, alongside the zingy minerality and savoury side. The sapidity and balance are just perfect. Slightly more mellow, more mature than the Saca 2016. Evolves towards herbs, subtle nutty notes, with a gentle bitterness of olive brine in the end. Plenty of drier, mineral notes in the finish.
Availability: around € 40 for a 37.5 cl bottle. Extremely expensive for a Fino sherry, and the price goes up each year, but that's understandable if you keep in mind the time and effort put into it. I bought mine from Xpertvinum.
Summary: Another great Barajuela. The tension between white wine characteristics (juicy fruits) and classic Fino sherry notes (yeast, straw, dried fruits) is really beautiful. A multi-faceted wine with a unique identity and a project that deserves our support.