Fino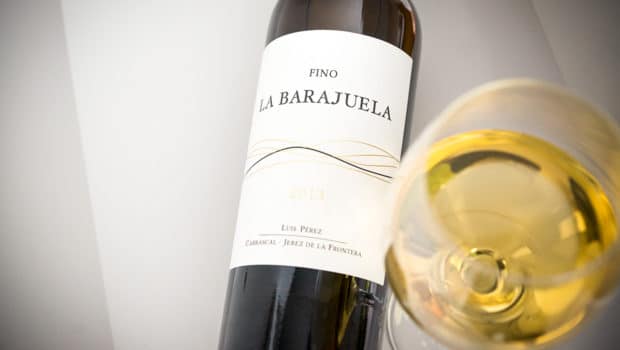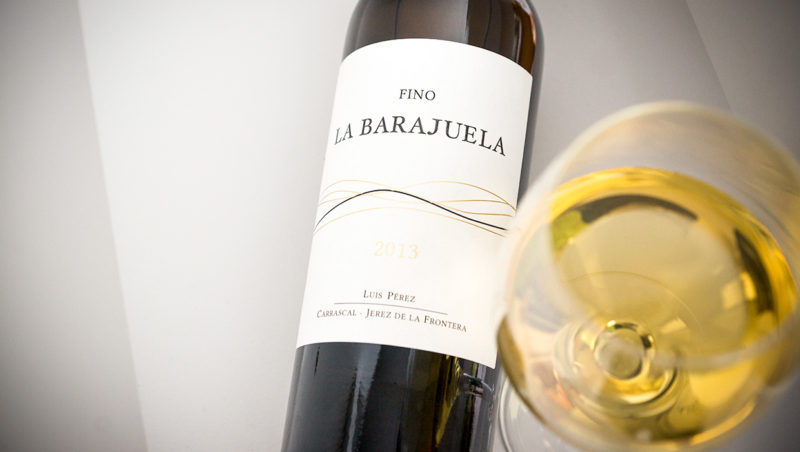 Published on August 10th, 2016 | by Ruben
0
Fino La Barajuela 2013 (Luis Pérez)
La Barajuela is the brainchild of Willy Pérez, son of the winemaker Luis Pérez. He wanted to make an unfortified vintage Fino, produced with grapes from the vineyard El Corregidor in the Pago Carrascal. This vineyard was once owned by Sandeman and has been acquired by the Pérez family.
Read more about this project in the articles Back to the future: Ramiro Ibáñez and Willy Pérez and Fino and Manzanilla for which the vintage does matter
Nowadays Palomino grapes are picked when reaching around 12% potential alcohol, but in order to get to the legally required 15° of alcohol without fortification, Pérez decided to harvest later, carefully select his grapes and put them in the sun for a short amount of time (24-36 hours) – methods that were commonly used in the past but lost in recent years (at least for Fino sherry). Butts are also filled to a higher level in order to have less flor influence and less evaporation of alcohol.
Barajuela is a type of soil, a sub-type of Albariza, with medium amount of calcium carbonate, a slightly yellowish tint and a specific, laminated structure of different layers on top of each other. Hence the name and the laminated figure on the label, I suppose. Read more about this in my article Albariza revisited: Antehojuela, Tosca Cerrada, Barrajuela
Recovering the terroir of sherry wines
It is an interesting wine in the sense that it is all about terroir, going back to the unique characteristics of a specific soil like they did so many years ago. In recent years people have always said that the great wines of Jerez were made in the bodega (mostly under the influence of flor), with very little effect from the vineyard, the vines, the vintage or the grape, but Willy Pérez is trying to prove that Palomino can be expressive and that the soil can impart a unique fingerprint to a wine. In the 19th century Jerez was renowned for making the most powerful white wines in Europe, thanks to the unique soil and the proximity to the sea. Pérez is trying to go back to the ideas of that era (moving away from current-day methods in the Jerez region) and amplify the terroir, so to speak.
For more information on the ancient styles of sherry that Willy Pérez is trying to recover, see my article Ancient sherry typology: Palma, Palma Cortada, Raya…
I believe there have been some difficulties because of its deviant character and unfortified nature, but eventually the label does bear the official D.O. Jerez-Xérès-Sherry mark. This means the D.O. is looking at the resulting wine to decide whether it can be called sherry, rather than focusing on the strict technical guidelines. In general, I think several of these rules (fortification, solera, allowed grapes…) will be reconsidered in the future.
Willy Pérez also made an Oloroso Barajuela, from courser mosto and grapes that have been harvested even later. Not a lot of difference at this time, but of course two years is a short time for the development of a true Oloroso character.
La Barajuela Fino 2013 (15,4%, Luis Pérez)
Nose: not a classic yeast-driven nose, but one that has some intense fruity elements (melons, apples) and lots of savoury notes (herbs, some vegetal / farmy touches, curry). For me it also hints towards Champagne in some ways, but I find it difficult to explain. Some salted almonds too. A vivid nose, but very elegant at the same time.
Mouth: very big and forthcoming, with a particularly fat body. Lots of fruits still (melons, quinces) with a nice acidity. Some nuts (almonds, hazelnuts) and nice mineral notes, as well as a balanced bitterness certainly hint towards a standard Fino, but it's much more in the field of a classic table wine. Excellent balance of fruits and minerals, very juicy and fresh, with a long finish.
Availability: only +/- 1100 bottles, of which 60 are available through Xpertvinum. Around € 30.
Summary: This is one of these wines that falls between stools, modern and classic at the same time. Like a blend of a full-bodied table wine and a current-day standard Fino. Its story may be a bit technical and complex, but with the right mindset this is simply a delicious next-generation wine from Jerez.