Other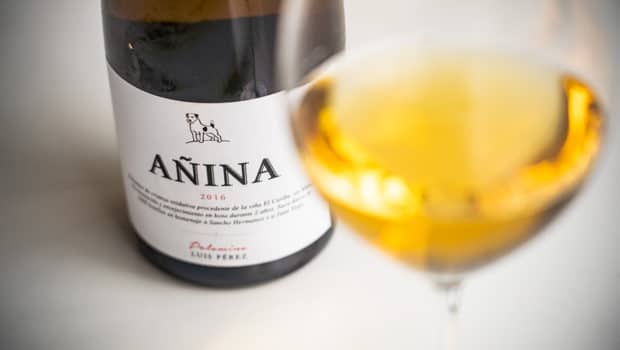 Published on May 3rd, 2019 | by Ruben
0
Añina 2016 (Luis Pérez)
A low-yield, manually made Palomino white with oxidative traces
Añina is one of the four best-known pagos around Jerez, at 13 kilometres from the Atlantic and just North of the road to Sanlúcar. It includes the Viña El Caribe, the vineyard which once belonged to the bodega A&A Sancho in El Puerto where Willy Pérez' grandfather was cellar master. The vineyard is now part of Diéz-Mérito if I'm not mistaken.
Viña El Caribe
El Caribe has old vines pruned to the vara y pulgar method and is now producing the Palomino grapes for this wine. Although its fine albariza soil (of the Tosca Cerrada sub-type) is great for making Fino, the hot and dry 2016 vintage turned it into a deeper Oloroso-style wine.
Production was extremely manual, from the harvesting of the grapes by hand in small buckets to the two-day asoleo (sunning) and pressing in a small press that gives no more than 40% yield. The juice is naturally fermented in oak barrels for two months without racking and without temperature control. It is then aged in oak barrels for two years, without fortification, producing what Willy calls a white with oxidative ageing.
At the same time there is a Carrascal PX 2014 with a similar label, produced in a similar way in the La Panesa vineyard.
Añina 2016 (15%, Luis Pérez, 2000 btl.)
Nose: at first it has a striking oxidative / oxidated character but this fades a little and makes place for a very elegant structure. A great sapidity of ripe quinces, yellow apple juice and hints of orange flower honey. Light touches of hay in the sun, a very warm background. Sweet almond paste. Apricot tarte tatin. There's a great waxy, varnished and almost petrol-like hint on the nose as well – just lovely.
Mouth: traces of an oxidized Fino again, but with a much nicer fruity side and even a balancing acidity. Melons, quinces and juicy apricots are back, playing a nice sweet and sour game but also bringing out the minerality of the soil. The first hints of dried fruits (figs and nutty notes) and subtle cocoa that you'd expect in a more mature Oloroso. Long finish, leaving us with this excellent sapidity.
Availability: around € 45 for a 50 cl bottle, hard to find. Expensive but very unique and worth tracking down nonetheless. I got mine from Xpertvinum.
Summary: Añina 2016 is another top quality wine from Willy Pérez and a very interesting hybrid between a full-bodied white, a Fino and a young Oloroso. Highly recommended if you want to see what the young winemakers around Jerez are capable of. I love it.