Vino de Pasto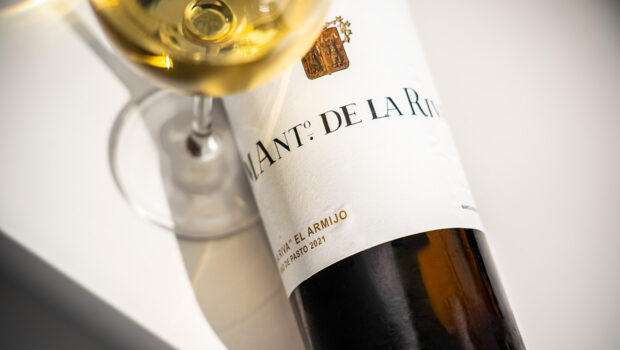 Published on June 14th, 2023 | by Ruben
0
La Riva El Armijo 2021 – Vino de Pasto
A couple of weeks ago I reviewed the "La Riva" Lacave 2021 from M. Ant. De La Riva. Today I'm having another wine from the same series: El Armijo 2021. The purpose is to show the differences between different vineyards and pagos like El Armijo, El Cuadrado, Matalían, Cambre and others. All wines are created in the exact same way, only the provenance of the grapes are different.
Viña El Armijo
El Armijo is in Sanlúcar de Barrameda. Throughout the centuries this vineyard area was divided into lots of small plots. The Florido family (see César Florido) patiently acquired them until they were able to assemble the entire zone in a single 33.5 ha vineyard.
When it comes to albariza, the soils in this area are heterogenous. There is Tosca Cerrada (toug and solid), Lentejuelas (crumbly sponge-like), some Barajuelas (laminated, lots of diatoms) and Albariza parda (more sand). See my article on the types of albariza soils for more background information.
Like the other wines in this series, the grapes are hand-harvested at the end of August 2021. They are pressed without destemming and fermented in old 500-liter casks at ambient temperature. The wine is aged for 12 months under a veil of flor. El Armijo has a slightly lower ABV than Lacave 2021.
"La Riva" El Armijo – Vino de Pasto 2021 (12,5%, M. Ant. De La Riva 2022, 600 btl.)
Nose: certainly sharper than Lacave. When the bottle was freshly opened, I also had the faint acetic touch that I sometimes get in Vinos de Pasto. It fades after a day or two. The wine settles down on citrusy freshness (including some lemon peels) and pears. Underneath there are plenty of seashells and sandy beach notes.
Mouth: more on citrusy notes again. Lemon juice, lemon skins, also sharper hints of grapefruit. Higher acidity than Lacave, with a tighter profile and slightly lower complexity. The mineral side of the albariza comes out as well, leaving a dry impression. Then a slightly nutty edge in the end, with some dried apple slices in the finish. This benefited from a slightly higher temperature – straight from the fridge it's closed and slightly one-dimensional.
Availability: limited of course. Around € 30-35 per bottle. Check Gourmet Hunters for instance.
Summary: The sharpness and slightly acetic edge make this a little less to my liking than Lacave from the same series. Slightly more narrow and pungent, and certainly a good advocate of this profile.