Background
Published on January 23rd, 2018 | by Ruben
0
Types of sherry bodegas
While most of the world's fine wines are grown, vinified, matured and sold by the same company, in the case of sherry wines this is (was) an exception rather than the rule. The name 'sherry bodega' traditionally covers different types of winemaking firms which work together to produce sherry.
In fact we find three types of bodegas in the sherry region, in a hierarchy that developed itself in the early nineteenth century. It allowed the industry to expand significantly while at the same time distributing the risks that accompany growth.
Ageing and shipping bodegas
Or bodegas de crianza y expedición. Their premises need to be located within the three core cities of the "ageing zone": Jerez de la Frontera, El Puerto de Santa María and Sanlúcar de Barrameda. Sherry wines have to be matured within the boundaries of this 'sherry triangle'. They need to comply with the regulations of the D.O. Jerez-Xérès-Sherry which protects and warrants their wines.
A shipping bodega is the only type of bodega that is allowed to sell (or more precisely: export) bottled sherry: these are the well-known commercial names that place their brand on the label like González Byass, Lustau, Valdespino or Barbadillo.
In 1996 the D.O. lowered some of the requirements for becoming a shipping bodega. The minimum stock came down from 12.500 hectoliters to a mere 500 hectoliters. This caused many smaller almacenistas and production bodegas to 'upgrade' and become a small shipping bodega. A good example of this is El Maestro Sierra which operated as an almacenista for a long time. Nowadays most bodegas are registered in this category of shipping bodegas.
In 2020 a total of 53 shipping bodegas were registered (28 in Jerez, 5 in El Puerto and 20 in Sanlúcar). They held around 287.000 barrels of wine in total.
Ageing and stocking bodegas (almacenistas)
Or bodegas de crianza y almacenado. In Spanish they are commonly called almacenistas (click to read my detailed article about this type of bodega). They are also located within the three core cities of the "ageing zone" but they are merely ageing sherry wines, in order to sell them in bulk to shipping bodegas later on, who will blend them into their own solera. For shipping bodegas the almacenistas are a good way to offer a wider range, or strengthen their own products by adding external wines.
Historically almacenistas were small family companies, which often sold their wines in related bars or tabancos (directly from the barrel), but they can't sell bottled wine under the D.O. seal.
Some of the bodegas that are registered as almacenistas are specifically involved in the preparation of casks for the maturation of whisky (e.g. Xeranthia and Miguel Martín), which requires young sherry that is not primarily intended for consumption. Some of the cooperages that produce sherry-seasoned casks set up a winemaking business and create "seasoning wines". When the casks are ready, the wines are not bottled but distilled or used to produce sherry vinegar. Check my article Sherry casks in the whisky industry for more information.
The number of almacenistas has been in decline for many years. There were over 300 in the 1830s and still over 50 a few decades ago, but in 2020 just 17 of them still existed (15 in Jerez and 2 in Sanlúcar), holding around 30.000 barrels. If you leave out the cask seasoning business, then the amount of traditional almacenistas is even lower.
Production bodegas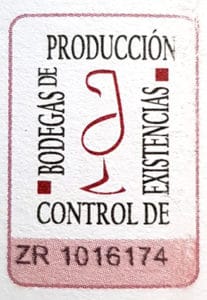 Or bodegas de producción. Roughly speaking they are primarily vineyard owners, which can be located outside of the registered ageing zone (e.g. in Chipiona, Trebujena, Rota, Lebrija or Chiclana). As grape growing has become much less profitable over the years, a lot of shipping bodegas sold off their vineyards in the 1930s and especially in the 1980s, as well as the pressing facilities that produce the mosto. Nowadays only 30% of the shipping bodegas produce their own grapes. Another 28% are independent grape growers and 42% is grown by cooperatives (statistics 2016). The low market value of wine grapes is a long-time discussion in the Jerez area.
A production bodega basically harvests grapes and produces the mosto, the base wine which is used to refresh existing soleras. In a sense these production bodegas also cater for the first small part of the ageing process.
In addition to providing services for other bodegas, production bodegas are allowed to market their wines directly, as long as they're making use of the names of their respective townships rather than the denomation 'sherry' (although they have a similar sticker that says Bodegas de Producción). A good example is Primitivo Collantes or Bodegas El Gato.
In 2020 11 bodegas were registered in the production zone.
New 2022 regulations
In 2021 the regulations of the D.O. were changed: the ageing zone is now considered equal to the production zone. This basically means that all nine municipalities are treated equally and that the production bodegas now have the right to age wines and sell them with the seal of the D.O. if they comply with all other rules. The definitive texts are not yet available, so it remains unclear to what extent the historic differences will remain.
Read more about the new regulations for the D.O. that became active in 2022.