News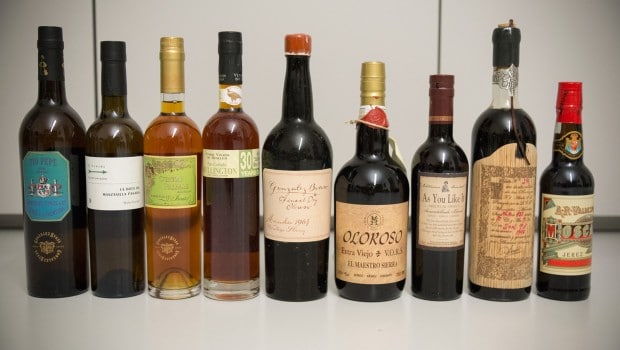 Published on December 16th, 2014 | by Ruben
1
Fulldram's ultimate sherry tasting
I'm part of Fulldram, a tasting club ("degustation club" for lack of a better translation). Originally a whisky club, there's now a smaller branch that is looking to try all kinds of gourmet foods and drinks. At least once a year, there's a kind of 'ultimate tasting' around one specific theme. Last year we've had a Madeira tasting, going back to 19th Century bottlings. This year, I hosted the sherry tasting. As it was decided a long time ago already, I spent almost a year bringing together and assessing bottles that would be good enough.
Usually, when you're introducing a drink to people that aren't very familiar with it, you start with decent standard expressions and you end with one or two outstanding examples. This is difficult with sherry, because there are so many different styles from ultra-dry to ultra-sweet. If I wanted to include all styles and serve multiple expressions of each, people would not go home safely. The solution was serving only magnificent sherries right from the start. Quality had to be high in order to capture these tasting experts without comparing each sherry to a 'normal' sibling. An introductory tasting at the highest level.
After lots of doubts and changes, here's my line-up. All of the wines are 30-100 years old on average, except for the Fino and Manzanilla of course.
Tio Pepe En Rama 2014
The aperitif. It's perfect to set your mind to sherry and to clean your palate. It's also a good bottle to prove you don't need to spend a lot of money to get an intense, authentic sherry. To my surprise, people really appreciated this very dry style (which still includes some fruitiness).
La Bota de Manzanilla Pasada #50 (Equipo Navazos)
As Tio Pepe En rama is fairly young, I wanted an old Manzanilla, and this is one of the best (and oldest) Manzanillas I've ever had. It's farmy, mineral, warm and it keeps evolving in the glass. By the way, it was difficult not to come up with an Equipo Navazos bottling for each type of sherry. Most of their releases are outstanding, but I wanted to present different bodegas.

After this, I included a surprise sherry: Qué Fino from the defunct Bodegas Pedro Diaz-Lopéz, a Fino sherry bottled in the 1930's – 1940's. A unique piece of history which proves that due dates for sherry are to be taken with a grain of salt. Of course this wasn't a crisp, young Fino any more: it had been oxidising in the bottle and developed some nutty flavours, toasted bread, a wonderful vanilla sweetness and a Madeira-like rancio. Hard to say how this Fino would have been at the time of bottling, but at this moment it was perfectly drinkable, very complex and simply an emotional experience!
Amontillado Cuatro Palmas 2013 (Gonzalez Byass)
One of my favourite Amontillados and one that whisky drinkers can probably relate to because of the polished oak and exotic spices on the nose. You could argue this is not the most pungent example of Amontillado – I hesitated to include El Maestro Sierra's Amontillado 1830 or El Tresillo 1824 – but I liked the fact that we tried Tio Pepe first and then its oldest sibling.
Palo Cortado Wellington VORS (Hidalgo La Gitana)
As a big fan of Palo Cortado in general, I had a hard time picking one. In the end I selected this one because it's very accessible and because I could buy it at a good price (the budget was very high, but it had to be respected anyway).
Oloroso Extra Viejo 1|7 VORS (El Maestro Sierra)
Plenty of good Olorosos to choose from as well. This is one of the oldest and rarest in the region, from a bodega that I simply had to include. It was served alongside the Oloroso 1964 as a direct comparison. Oloroso 1|7 is definitely bolder, with a magnificently wide and aromatic nose.
Oloroso Añada 1964 (Gonzalez Byass)
I hesitated between different vintages, but eventually picked the oldest one from my cellar. Compared to the Oloroso 1|7, it was the epitome of elegance, with smoother flavours and more balance. Even after having the sweet wines at the end, you could easily come back to this one and enjoy it all the same.
'As You Like It' Amontillado blend (Williams & Humbert)
A medium sweet sherry, one of the oldest creams on the market today. My first draft line-ups didn't include Cream sherry at all, but previous tastings made me realize most people do like a bit of sweetness. In any case this is a wonderfully balanced Cream, with some sweetness but plenty of acidity as well, while you can still feel its Amontillado origins. Oh, and it's a bargain.
Pedro Ximénez Don PX 1946 (Toro Albalá)
Even though the D.O. Jerez has a few beauties as well, this is one of the most singular PX expressions I know. It was paired to the Moscatel Toneles, but almost everyone preferred the PX for having a better balance and an impeccable combination of a pastry-like sweetness and a perfect acidity.
Moscatel Toneles (Valdespino)
Ending with one RP 100 wine would have been brilliant already, but ending with two of these beauties suited the rest of the line-up. Similar to PX with its sweet and sour balance, but more intense. In a direct comparison with the PX 1946, it's a little rough around the edges maybe.
The tasting lasted a bit longer than planned, but you can't rush these kinds of wines. In any case, I believe this tasting has been an eye-opener for lots of people when it comes to quality sherry. Although we didn't think making a ranking was a good idea, the Amontillado Cuatro Palmas, the Oloroso Añada 1964 and the PX 1946 stood out as the favourites of the audience.
Most of these bottles will be reviewed in depth over the next couple of weeks. Stay tuned.