Fino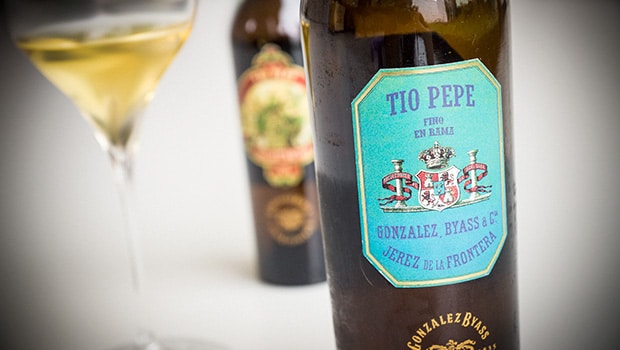 Published on April 30th, 2014 | by Ruben
4
Tio Pepe En Rama 2014
Tio Pepe En Rama 2014 is a selection of 60 barrels, bottled with minimal filtering
In 2014 González Byass releases the 5th edition of Tio Pepe Fino En Rama, the virtually unrefined version of Tio Pepe.
You may want to read our review of Tio Pepe En Rama 2012 for more background information.
It was with the 4th release, last year, that capataz Antonio Flores decided to move away from using the classic Tio Pepe blend of seven Fino soleras. Like the previous edition, the 2014 version is a more narrow expression, a blend of casks selected from just two soleras in the Rebollo bodega (a very dark and humid bodega – excellent conditions for a strong flor influence) and the Constancia bodega (where the casks produce a more classic Jerez fino).
From a total of around 20.000 barrels, 600 have been monitored for a while. The best 60 were selected at the beginning of April 2014 – the ones with the most vivid flor – and blended to result in a 4,5 years old wine bottled just one week ago! This Fino is as fresh as it gets.
Last year's mild and humid winter favoured the metabolism of the flor, so we expect an intense Fino. As usual, the producers advice you to drink it within three months from now. I would advise you to drink one now and save one for later this year.
Once again, the label for this Tio Pepe En Rama 2014 has been inspired by original artwork from the Tio Pepe archives. It's a nice blue label that mentions the fact that González Byass is an official supplier of the Royal family in Spain.
By the way, the Belgian presentation of this wine was hosted at restaurant Sofie's Choice in Roeselare. Be sure to read about the lovely foodpairing menu I had with this wine.
Tio Pepe En Rama 2014 (15%, Gonzalez Byass)
Nose: mostly Constancia talking, I would say? Rather on the fruity side of a Fino, with a classic, citrusy Jerez character. A nice sweet and sour balance of apple and lemon notes. Soft apricots. Hints of white bread or even biscuits. Obviously the flor is clearly noticeable, but it's less "punzante" and forthcoming than I remember the previous releases. Elegance is key here.
Mouth: very fresh with medium acidity, very juicy again. Starts on sour fruity notes, then adds a bit of fresh oak and yeasty notes. Becomes a little wider and more full-bodied towards the finish, with gentle coastal notes and soft briny notes. It's mostly in the end that the power of the flor comes out.
Availability: 22.500 bottles worldwide, with the majority heading towards the UK. Originally a UK exclusive, but nowadays more countries are enjoying En Rama sherry. I'm glad Belgium managed to get 300 bottles as well. In UK stores from next week, check this list of stockists.
Summary: While En Rama releases are usually about supercharged flor intensity, this one shows a rather delicate, more elegant version of the Fino profile. A lovely wine already, but am I the only one who thinks this may actually get better after the supposed due date?