News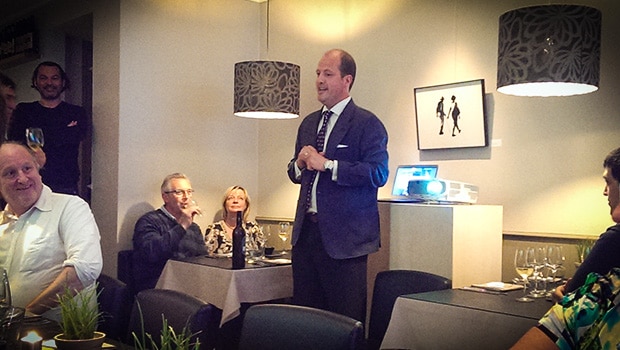 Published on May 5th, 2014 | by Ruben
0
Tio Pepe En Rama @ Sofie's Choice
For the Belgian presentation of the new Tio Pepe En Rama 2014, González Byass selected a restaurant called Sofie's Choice. It's not a big restaurant, and it's not located in a major city, but it's placing quite an emphasis on sherry wines, more so than any other restaurant in this country.
I haven't written enough about the combination of sherry and food so far. After all, sherry only gets better when it's paired to a wonderful dish.
Chef Sofie and host Erwin started a catering business in 2008. Later this was replaced by a restaurant where the ladychef serves a Belgian-French cuisine. In 2012, they started to focus on sherry: specific menus were paired with sherries from Bodegas Tradición.
Now they have a much wider array of sherry wines from bodegas like Fernando de Castilla, Gutiérrez Colosía, Don José Maria and obviously González Byass. The restaurant attracts sherry lovers from all over the country, which comes as no surprise as sherry / food pairing is still unique in our Belgian gastronomy. Moreover, Erwin knows his products and knows how to educate his clients.
Oscar Bayo, the regional sales director of González Byass, came to Belgium to introduce the latest edition of Tio Pepe En Rama. He presented the history of the bodega and the basics of sherry winemaking while the kitchen served appetizers like chips of lomo with a garlic mayo, marinated olives and white asparagus with gorgonzola. A good match for a chilled glass of (regular) Tio Pepe, which is still a benchmark when it comes to widely available Fino. The starter was the highlight of the evening: a carpaccio of fresh scallops with lime zest and dried Ibérico ham. Very full-flavoured and excellent with the new Tio Pepe En Rama.
The main dish was Atlantic wolffish with savora mustard, polenta, green asparagus, white sausage, fennel, Belgian endive and veal gravy. This was less of a favourite among the audience – maybe some ingredients were out of place. In any case it was lacking a bit of punch to really stand up to the Amontillado Viña AB. Dessert was a nice selection of cheeses with the classic Amontillado Viejo Del Duque VORS.
Starting with the regular Tio Pepe and moving towards the Amontillados, we had the opportunity to try essentially the same wine at different stages of life. The Tio Pepe soleras feed the Viña AB solera, and this in turn feeds the Del Duque solera. A good showcase for the quality wines of González Byass, as well as for the fine cuisine at Sofie's Choice. Thanks again to Sofie, Erwin, Oscar and Olivier from Cinoco for a great evening.
Note that Sofie's Choice is participating in the International Sherry Week 2014. For all available menus, they will propose a complementing set of sherry wines.