Pedro Ximénez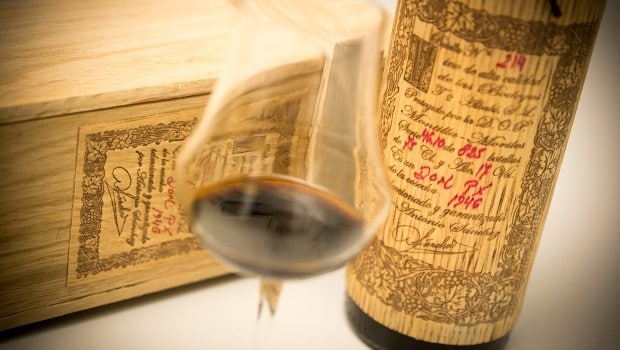 Published on December 23rd, 2014 | by Ruben
6
Don PX Convento 1946 (Toro Albalá)
Don PX 1946 is a vintage Pedro Ximénez that has been maturing for 65 years
This wine is a legend. It is a Pedro Ximénez made from the first grapes harvested after World War II in Montilla-Moriles, the neighbouring area of the D.O. Jerez-Xéres-Sherry, specialized in Pedro Ximénez.
Of course Bodegas Toro Albalá have plenty of really old wines in their portfolio, including an even older 1910 vintage and upcoming 1929 and 1955 vintages, but this Don P.X. Convento 1946 vintage was one of the first three sherries ever to receive 100 points in Robert Parker's Wine Advocate.
It's a sweet wine, made from grapes that are dried in the sun (a process called soleo) before being pressed. That way, the must will only partially ferment and high levels of sugar will remain in the wine. It is then rectified with grape alcohol, it rests for around a year in inox tanks before being decanted and poured into barrels for maturation.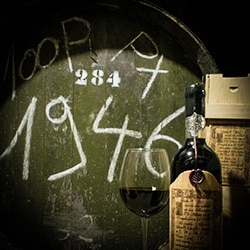 A few notes regarding the label (thanks to Toro Albalá's Antonio Sorgato for his kind explanation). First of all, it says 825 bottles are produced. This is only partially true: the wine is released to the market in different batches (indicated on the label as 46.1, 46.2 etc.) with 825 bottles each. As far as I can tell, at least 13 batches have been bottled so far (+ magnum bottles in separate batches).
While these batches are spread over the years, the wine was taken out of the casks entirely in 2011, according to the bodega. It is kept in inox tanks and conserved with nitrogen until it is bottled. At this moment, there's still +/- 8 barrels left in the deposit, but I'm not sure how many bottles this would represent.
By the way, Toro Albalá recently announced it will include an NFC tag inside the labels of their oldest vintage wines, starting March 2015. Buyers will be able to certify each bottle and make sure it wasn't falsified (which apparently is becoming a threath for wines in this category). The bodegas are working with Selinko to make this happen.
Pedro Ximénez 'Don PX Convento' 1946 (17%, Toro Albalá 2011, series 46.10, 825 btl.)
Nose: the first thing that struck me was the wonderful smell of cinnamon rolls and Belgian speculoos. Bread pudding. Lemon grass, candied ginger and cardamom as well. It's a sweet nose alright, but the savouriness is remarkable, as well as the fragrant touches (think bergamot and rose petals). Goes on with sultanas and black cherries with a chocolate coating. Blackcurrants. Fig syrup. Not a lot of oak, but you can sense a kind of oriental, polished wood. Waxed sandalwood and cigar boxes.  There's also a slightly medicinal layer, something in between camphor and menthol. Even hints of petrol. Great sweet and sour balance overall.
Mouth: sweet and sour again, in a generally soft way, Madeira style, a real prolongation of the nose. Not cloying at all – hardly any plain wood either. In no particular order: mocha, black olive paste, brown sugar crumble, cinnamon rolls (again, big time)… Raisins but also raspberries and cherries, giving this an exquisite freshness and brightness. Almonds in the background. Hints of After Eight as well. Very rich but also very elegant. My only (small) remark would be that the finish is very enjoyable, but not quite as infinite as I expected.
Availability: can be hard to locate, but worth the effort. Around € 250. There are also exclusive 3-liter and 15-liter (!) versions valued at € 2.100 and € 14.000 respectively.
Summary: Trying this Toro Albalá Don PX 1946 is a privilege. It's sweet but it also shows lots of acidity and savoury notes, with remarkable hints of cinnamon and speculoos. It doesn't feel old in any way, but somehow you understand that this profile only occurs after long years of patience. Not just a devine sherry but also a world-class wine.