Oloroso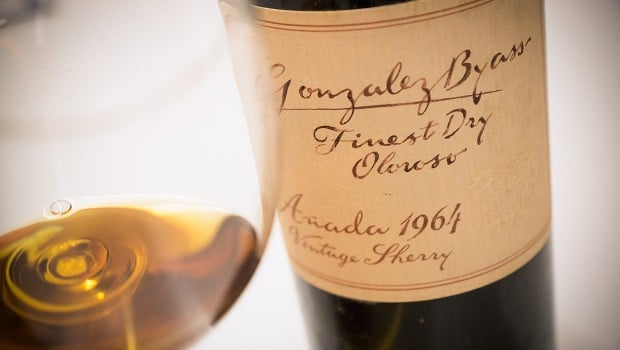 Published on April 27th, 2015 | by Ruben
0
Oloroso Añada 1964 (Gonzalez Byass)
A 31 years old Oloroso, matured in separate barrels laid down in 1964
González Byass is the most important producer of vintage sherry, alongside Williams & Humbert.
Production methods are clearly different from the traditional solera maturation: each barrel is maturing separately and sealed by the Consejo to ensure it is not mixed with other wines. The biggest challenge is not to let the wine evaporate too much. The añada concept was still widely in use until the early 20th century, but it then largely disappeared for several decades.
Oloroso Añada 1964 was released in 1995 and it was only the third vintage ever to be released by the bodegas, after the 1963 and 1966. It's worth noting that twenty years later, I discovered two cases of this wine in the cellars of the Belgian importer at that time, still available for the original price, just below € 100. My lucky day. It goes to show that (vintage) premium sherry wasn't easy to sell and I don't think it has become much easier by now. Nonetheless most of these wines are extremely interesting and still pretty good value.
Some añadas are labeled Palo Cortado. Others, like this one, are named Oloroso but their production method is always the same. It's merely an olifactory classification and an evaluation of the thickness and body of the wine at the time of bottling.
Oloroso Añada 1964 (22%, Gonzalez Byass, 2920 btl.)
A fairly bright and orange-tinted colour, with brown hues and very little reds.
Nose: a very forthcoming nose, it doesn't need much time to win you over. Very wide and aromatic. Sweetish hints of soft caramel and sweet vanilla, evolving towards warm, exotic woods (think cedar or …). Also echoes of dates, but lacking their sweetness, if that makes sense. Pecan nuts, even pecan pie. Some buttery notes. Shows some rather smoky hints too, from the wood no doubt. Subtle exotic spices as well. Very enticing and hugely complex.
Mouth: full-bodied. The first few seconds, you get the impression of a really mellow and light-footed Oloroso, but it quickly grows bold and fairly dark. Firm acidity. Orange peel again, soft hints of dried fruits and vanilla scented candles. Overall dry, with tobacco leaves and big hints of humidor. Still some smoky hints. Ends with a very persistent finish and a bittersweet death.
Availability: forget it. You better set your mind on similar recent vintages. The Oloroso 1975 and Amoroso 1967 (also very rare) were around € 300.
Summary: The Oloroso Añada 1964 is a wonderful piece of time travel. Thirty years in a barrel and twenty in a cellar, yet it comes out fresh and fragrant. A magnificent wine.