Other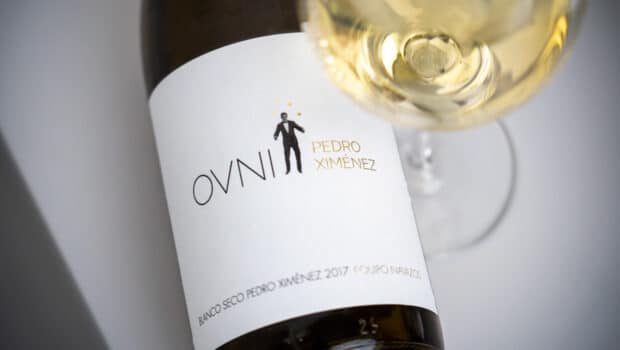 Published on December 9th, 2021 | by Ruben
0
OVNI Pedro Ximénez 2017 (Equipo Navazos)
OVNI is meant to be a fun and fresh white wine with a clear Andalusian fingerprint
OVNI (the Spanish acronym for UFO) is a dry white wine made by Equipo Navazos, or rather for them by Bodegas Pérez Barquero. Around 2008 Equipo Navazos were one of the first in the sherry region to put a spotlight on unfortified white wines again. Wines like Navazos Niepoort, La Bota de Florpower and OVNI can be seen as mostos, the wines that are produced in Andalucia before they are fortified and enter a solera system. Since then we've had all kinds of variations with different levels of flor influence (if any).
There have been OVNI releases made from Palomino grapes (from Sanlúcar as well as Jerez) but OVNI 2017 was produced in the Montilla-Moriles area from Pedro Ximénez grapes. They were harvested earlier than they would do for a Fino. Around 11-12° there is an optimum balance between primary fruits, acidity, alcohol and mineral structure from the albariza. The wine includes not only the first musts but also a portion of the second pressing. Two thirds fermented in stainless steel, the rest in cement vats under a weak layer of flor.
Although flor happens to be everywhere in the bodegas, it is not a key element in this wine. For a proper flor-influenced white you need to look at Florpower or the Niepoort releases.
The OVNI project was conceived by Equipo Navazos with retailer Coalla Gourmet, and OVNI wines are intended for casual consumption. Fun and fresh wines with a clear Andalusian fingerprint.
OVNI 2017 PX (12%, Equipo Navazos / Pérez Barquero 2018, 6000 btl.)
Nose: immediately it shows ripe quinces that are becoming typical for these new-wave white wines from Andalucia. Also melons and slightly tropical fruits. It's a little warmer than similar wines from Jerez, with a roundness that comes close to a Chardonnay. There's also a warm chalky note in the background, some seashells and a vague touch of flor (straw, wildflowers). Hints of brioche. Just a light hint of green olives.
Mouth: medium bodied, again showing a nice roundness. Pears and bruised yellow apples, with a decent acidity. Light almond notes. Mild tannins and a wee bitter edge. Less mineral character than its siblings from Jerez perhaps, although there's a light touch of salt and some wet gravel towards the end.
Availability: Coalla Gourmet now has the 2018 version for around € 13. The 2017 was still available from Gourmet Hunters.
Summary: A slightly rounder and warmer version of the albariza whites we've come to expect from the sherry region (I believe 2017 was a rather warm year too). The nose is great and while I'm missing some of the racy character of the Sanluqueño versions, it's still a very drinkable, authentic wine, which could definitely work as an introduction wine for people who are not familiar with sherry.