Other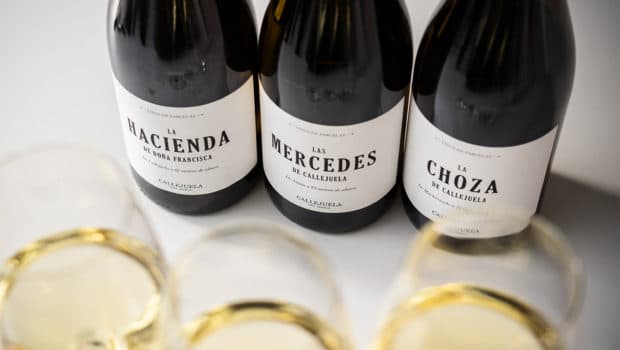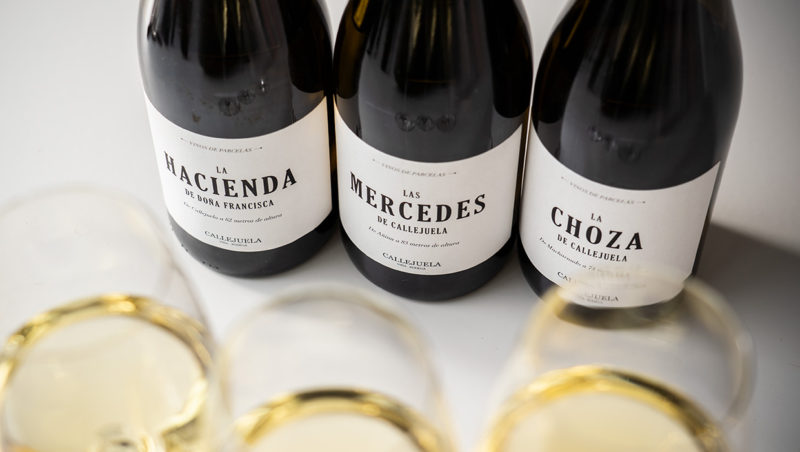 Published on February 13th, 2019 | by Ruben
0
La Choza / Las Mercedes / Hacienda (Callejuela)
In the past few years we've seen a surge of Palomino wines that explore the field between regular table wines and fortified sherry wines. They are produced in the sherry region and some are even subjected to flor. Some of them could be seen as unfortified sherry, others are closer to regular table wines.
I find these experiments interesting for multiple reasons. First of all, they try to prove that Palomino Fino (which is commonly regarded as a slightly bland grape with low expressivity and aromatic power) can produce great white wines. Secondly they focus on terroir, trying to highlight the unique properties of different plots around the area. Last but not least, people like Ramiro Ibáñez (consultant for La Callejuela) love the idea of educating people by juxtaposing different wines as part of a series.
The Blanco brothers from La Callejuela own around 28 ha under vine in the pagos Callejuela, El Hornillo, Macharnudo, Las Mercedes, La Casilla and Añina, all on albariza soils. One of their projects is this series of three unfortified single-vineyard white wines from three plots:
La Hacienda de Doña Francisca (16 ha, pago Callejuela, 62 m)
Las Mercedes (8,5 ha, pago Añina, 83 m)
La Choza (4,5 ha pago Macharnudo, 74 m)
The three wines have been vinified in exactly the same way, with grapes that were hand picked. After fermenatation in stainless steel, they had a +/- 7 month period of ageing in ex-Manzanilla casks, wher flor was allowed to grow on the wine. Keeping the variables identical allows the terroir to express itself even more. The wines were first released after the 2016 harvest, but I'm now trying the second release made in 2017.
Having them in this order means we're starting by the Guadalquivir river and move more inland, from a cooler microclimate to warmer and higher zones.
La Hacienda 2017 (12%, Callejuela)
From the pago Callejuela, to the North East of Sanlúcar. This is influenced by the river but is nonetheless located at a high altitude for this pago.
Nose: Chamomile, a little brioche bread and hints of cabbage and stables. Traces of Manzanilla indeed, but not quite. Traces of white fruits and minerals underneath.
Mouth: Much cleaner now, rather dry with medium acidity. After the slightly funky nose, this has the juiciest mouthfeel. Very light briney notes and an earthy touch. Hints of seaweed and umami notes towards the end.
Las Mercedes 2017 (12%, Callejuela)
Las Mercedes is to the West of Jerez, relatively close to Macharnudo but more influenced by the ocean.
Nose: Less aromatic, more compact, but also a bit fresher than La Hacienda. Apples, a trace of banana candy. Gentle, almost nonexistent flor and mineral notes.
Mouth:  More salty notes, more tangy and more compact than La Hacienda, but also more structured. Zingy acidity as well. A slightly herbal bitter edge, alongside fruity notes (lemons, grapefruit) and minerals. Balanced, with a nicely consistent fruitiness. Overall though, this feels a little less unique than the other two.
La Choza 2017 (13,5%, Callejuela)
Macharnudo is closer to Jerez and generally higher (although this vineyard is only halfway to the top). Renowned for its Fino sherry, it should lead to a fuller wine. Mind the higher alcohol as well.
Nose: The fruity notes seem more mature in a sense. Apples, apricots. Less flor, but there is a certain weight and maturity that is lacking in the other two. A bit restrained but also more elegant if you like.
Mouth: A little more rounded and plump, almost syrupy in a way. Minerals are still there but less pronounced. It has the compact body of Las Mercedes but it's richer and evolves in a more elegant way. Rather savoury overall. Some herbal notes and warm, dried grass in the end.
Availability: limited, just 1000 bottles of each, if I'm not mistaken. Around € 14 per bottle in Spain, I found mine for € 17 at Xpertvinum. For international shipping, try Bodeboca
Summary: It's great to have these kind of educational series: you really get a sense of location when you have them side-by-side. Good wines, really, each adding another nuance in between classic whites and sherry wines. This trilogy proves that Palomino has potential for more. Would I buy them again though, merely for drinking pleasure? Maybe not.