Other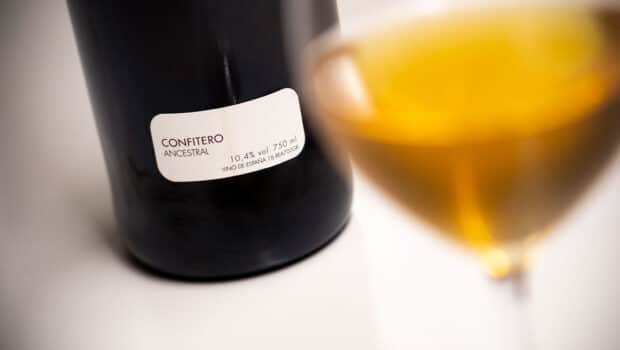 Published on January 10th, 2022 | by Ruben
0
Confitero Ancestral 2016 (Alba Viticultores)
A sparkling wine from Palomino grapes, following the méthode ancestrale and reviving old traditions of brands like Domecq
El Confitero (literally the confectioner) is a vineyard in the highest part of the pago Miraflores on the outskirts of Sanlúcar de Barrameda. It is managed by Alba Viticultores which is a group of four winemakers: Fernando Angulo, helped by his wife Carmen Caballero, Alejandro Muchada (of Muchada Léclapart) and Miguel Gómez, backed by a couple of mayetos working the vineyards.
Confitero Ancestral is a sparkling wine made with Palomino grapes from albariza soils following the méthode ancestrale or méthode artisanale. The wine is bottled when the alcoholic fermentation of the must is not yet completed. Some sugars and yeasts are preserved and these resume fermentation in the bottle, releasing carbon dioxide along the way. They don't add a liqueur de tirage and bottles remain closed so there's no intervention in the winemaking process down the line.
It's not just the way of producing bubbles that is old-fashioned, also the pressing (often by foot), the bottling and disgorging of their sparkling wines are also done in a traditional way, by hand. After disgorging the bottles are closed with a metal beer cap instead of a cork, and the label looks more like a temporary sticker. But let's face it, bottles like these often get us more excited than the ones with fancy labels…
Sparkling wine is nothing new in the sherry region, which obviously shows similarities to the soils of Champagne. Brands like Domecq exported sparkling wines based on Palomino grapes since the 19th century. Confitero Ancestral started very small, with just 600 bottles in 2014. It was picked up rapidly by restaurants like Aponiente, but I think 2016 was the last edition? They made sparkling wines from other vineyards though, and Alba Viticultores have other (still) wines as well, so they may be focusing on that.
Confitero Ancestral 2016 (10,4%, Alba Viticultores)
Nose: lovely. There's ripe fruit (apricot) with lots of fresher notes (cider apples, citrus peel and a light floral note). Surprisingly fruity and juicy. Wild herbal touches. A hint of lambic beers as well, and of course a glorious hint of albariza minerals, chalk and seashells in the background.
Mouth: virtually dry, showing the coastal and half fruity profile of these new-style white wines from Sanlúcar, only with a nicely intense but compact sparkle. Slightly savoury but with a nice acidity, and a really atlantic feel to it, with some yellow apple (slightly bruised now) and pineapple underneath. Yeasty notes. A minty touch. Apple peelings and sandy notes. A light animal / natural wine touch as well.
Availability: very limited, but still a few bottles available from Coalla Gourmet for instance, for around € 40.
Summary: Essentially an unpredictable wine, this came out excellent! Confitero Ancestral is a well-made sparkling wine and it has a great sense of location. I may have waited a few years before opening it, but I think it was the right choice. My favourite sparkling wine from the sherry region already.