Vino de Pasto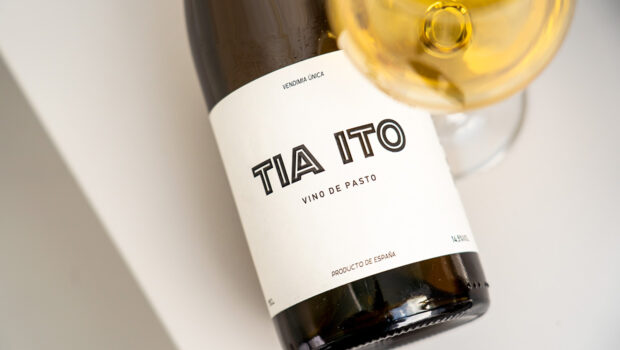 Published on May 22nd, 2023 | by Ruben
0
Tia Ito 2019 (Club Contubernio)
Tia Ito was one of the white wines in the latest Club Contubernio box. The wine is made by the young enologist Carmen De La Pascua, who worked as an intern at Luis Pérez for some time, and later at Bodegas Argüeso as well as with Comando G. While she moved on with her career, her first wine remained at the Pérez winery. A couple of months ago it was picked up by Club Contubernio and released as a Vino de Pasto.
This is a monovarietal Palomino wine, made with grapes harvested in 2019 from old vines in the pago Añina. Around 60% of the grapes were submitted to a 2-day asoleo. Maturation took place in three old botas, with flor development.
This white wine checks all the boxes of a Vino de Pasto: the typical Palomino grape, albariza soil, a bit of asoleo, flor and old sherry barrels. Apparently Armando of Club Contubernio doesn't really like this new expression, but it made the label nonetheless. The wine is what counts after all.
Tia Ito 2019 – Vino de Pasto (14,5%, Carmen de la Pascua / Contubernio 2022, 1500 btl.)
Nose: quite a high intensity. It's full of bruised apples (with a whiff of lambiek beer), mixed with dried shrubland, seashells and a hint of hay. Then green hazelnuts come out, as well as bright citrusy note. I seem to detect the lightest echo of Manzanilla Pasada too, somehow.
Mouth: really full again. The footprint of the asoleo is easy to notice, giving it a warm fruity edge (quinces) and lovely sapidity while staying dry. There's a marked salty touch as well. Then very subtle dried herbs and a hint of juicy olives towards the end. It's highly gastronomical representation of Jerez without fortification.
Availability: only available as part of the Club Contubernio programme. If you're a member, then some leftover bottles are still available from the Contubernio shop for € 25.
Summary: The sapidity, the salty touch, the asoleo richness... this is simply a highly gastronomical but also highly drinkable Vino de Pasto. If this was her first wine, then I hope Carmen returns to the sherry region one day. Lovely wine.