Fino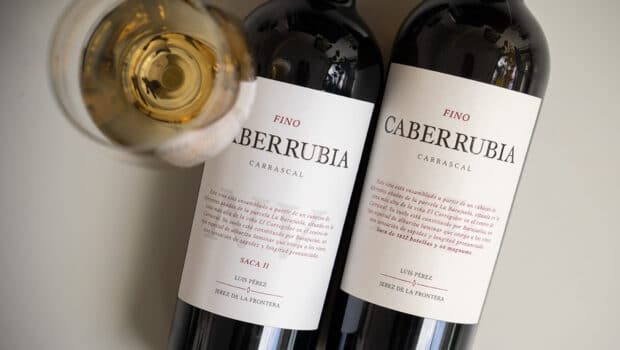 Published on June 15th, 2021 | by Ruben
0
Fino Caberrubia I vs. II (Luis Pérez)
Caberrubia is a blend of different vintages of La Barajuela
I remember trying this Fino Caberrubia for the first time in Taberna Der Guerrita with friends, in 2017. It stood out against the more classic Fino sherries during that lunch, but it showed lots of character and proved to be a great companion to any kind of dish. I had it on several occasions since then and it always impressed.
Let's recapitulate. The Palomino grapes from Pérez' vineyard in the pago Carrascal are harvested in five passes (August – September), with different ripeness levels. The first pass is used for distillation, the second goes into the white wine El Muelle. The third pass is used for the Fino La Barajuela while the last two are for Oloroso and Raya types. The Barajuela grapes are always aged in the sun for a few days and musts are spontaeously fermented in old wooden barrels, creating a single vintage sherry that reaches 15% of alcohol without fortification.
While Willy Pérez focuses on vintage sherry, Caberrubia is a NV blend of different vintages of La Barajuela. This still sets it apart from classic sherry, as it isn't aged in a solera but rather more assembled like a Champagne.
The first release dates back to 2017 and the second bottling Saca II was bottled in March 2019. Saca III has just arrived by the way, check Coalla Gourmet for instance.
Differences between Caberrubia I and II
Here's an overview of the barrels that went into the two versions:
| | |
| --- | --- |
| Caberrubia Saca I | Caberrubia Saca II |
| 1x 2013 vintage | 1x 2013 vintage |
| 2x 2014 vintage | 1,5x 2014 vintage |
| 1x 2015 vintage | 1x 2015 vintage |
| 2x 2016 vintage | 3,25x 2017 vintage |
In this recipe, the 2014 vintage was cool and adds a lot of citrus notes and sapidity to the blend, while 2015 was a hotter year, adding more creamy notes and dried fruits. Also 2016 was a top vintage with a lot of finesse. The 2017 vintage was colder again.
Fino Caberrubia NV (15%, Luis Pérez)
Nose: a really elegant Fino. There's sweet lemon but also apples and melons, blending nicely into a mellow, slightly overripe fruitiness. In the background it also displays warm sand, hay and minerals, as well as these typical notes of seashells or shellfish on the market. Hints of curry spice. Overall far less flor than you'd expect. It's the opposite of the lean, naked and slightly sharp character of a classic (fortified, solera matured) Fino – this is much deeper, riper and with the lightest hint of oxidation in the background.
Mouth: wide and full-bodied. This must be the fruitiest Fino out there. Mostly stewed fruits like peach and pear. Some zingy minerality and a lemony touch. Acidity is not too high, but considering it's 100% Palomino it's actually quite nice. An interesting savoury side as well, after all the flor influence in these Barajuelas is intentionally low. Very long aftertaste.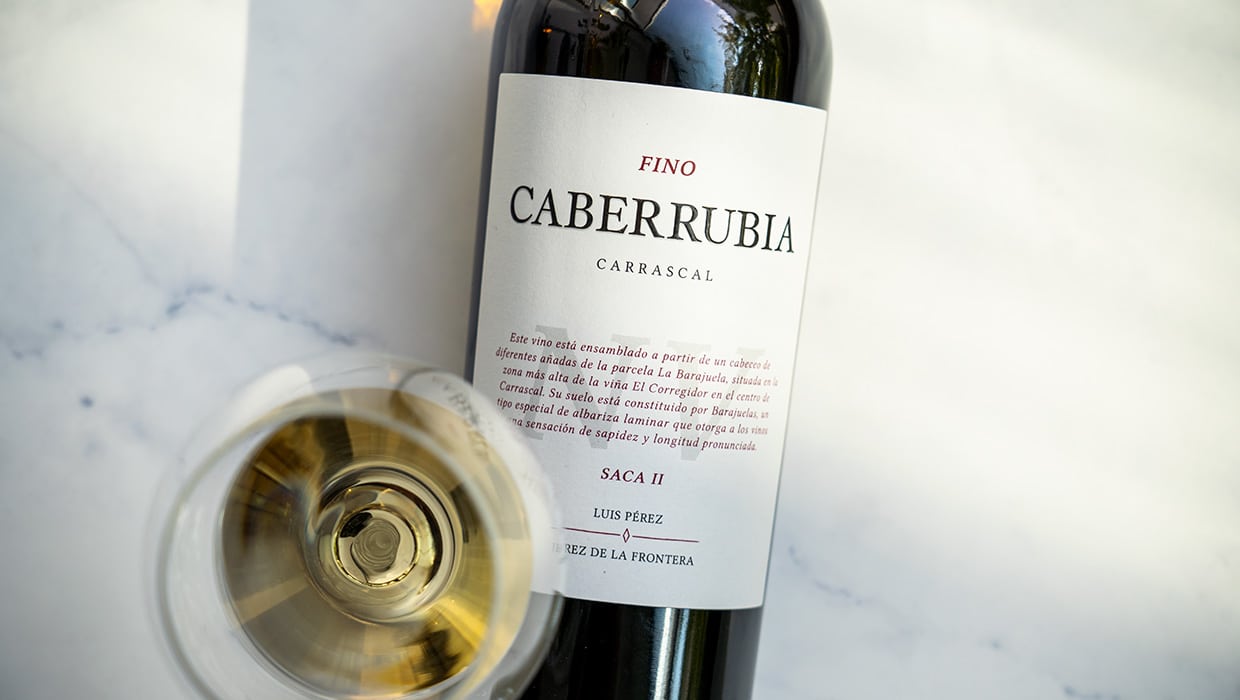 Fino Caberrubia NV – Saca II (15%, Luis Pérez)
Nose: slightly more herbal, slightly cleaner if you like. The fruitiness seems bigger and more stewed in Saca I whereas in Saca II it is fresher and more subdied (of course we should also take into account a couple of years in the bottle). Saca II is slightly less gluttunous, showing more citrus (juices and peels) and slightly more yeasty notes. A nice waxy touch as well. More nutty hints and dried flowers too, making it come accross slightly drier.
Mouth: sapidity and acidity are higher now, with a great burst of juicy fruits. Again more herbal notes in this Saca. Somehow this seems more focused, slightly more narrow, with more citrus. Length, width and the general profile are very similar of course.
Summary: Caberrubia is an excellent Fino, regardless of which Saca you're getting. The seperate vintages can be quite bold, and this is perhaps slightly more about elegance and balance, while not losing any power. Saca II is slightly fresher and 'colder' but both are great wines.