Cream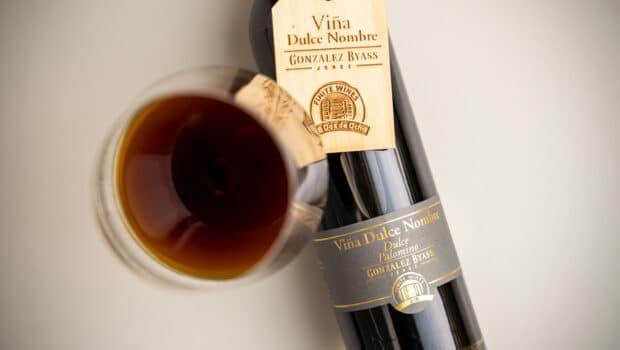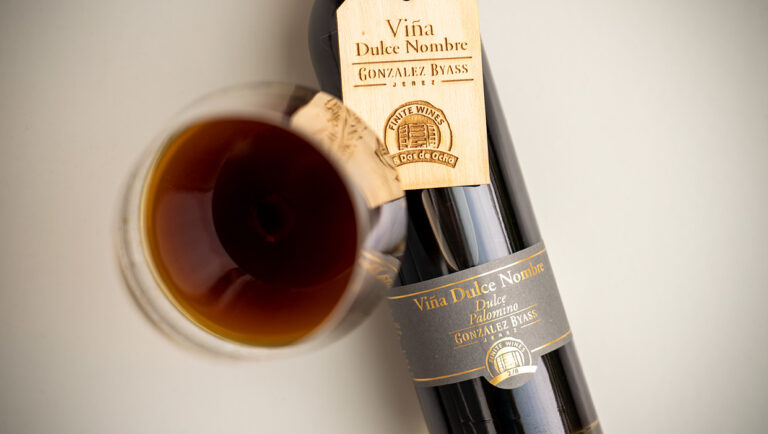 Published on February 3rd, 2021 | by Ruben
0
Vina Dulce Nombre 2|8 vs 1960 (González Byass)
This is the third and final set of wines from our Bottle Aged Sherry tasting we organized during Sherry Week 2020.
Viña Dulce Nombre is quite a unique wine from González Byass as it is one of the only sweet wines made from Palomino. In the past few decades all sweet sherries are being made from Moscatel or Pedro Ximénez grapes, but until 1986 they also vinified Palomino Fino from the pago Carrascal (more precisely the vineyard Estévez) in a naturally sweet style, with an asoleo of several days in order to concentrate the sugars. Palomino is more prone to rotting, so it requires strict monitoring when left out in the open.
Gonzalez Byass still had eight remaining butts from the final 1986 harvest. In 2020 winemaker Antonio Flores selected two of them and bottled them as part of a recent series called Finite Wines which includes all kinds of rare, singular, often lost styles of wines.
During the tasting we made the experience even more unique by pairing it to another Viña Dulce Nombre bottled over 50 years ago, from a bottle I found in an online auction. There's no bottle code in the glass, so we tried to narrow down the bottling date by looking at the label style. The black banding was introduced around 1958 and lasted until the late 1980s, but around 1966 the mention 'Sherry' and later 'Xéres – Sherry' was added underneath Jerez. The fact that there's a neck label means it has to be bottled before +/- 1965. I checked with Antonio and he also believes this has to be a late 1950s or early 1960s bottle.

Contrary to the other two head-to-heads, in this case we're not really comparing the same wines. While the name is the same, as well as the grape varietal, the production method and terroir, both have an entirely different age. The oldest bottle contains a rather young non-vintage wine (probably under ten years at the time of bottling) but the recent version is a 34 year-old statically aged vintage wine. I believe sherry is one of the only wines that allows you to try two wines with exactly the same origins but juxtaposing lengthy bottle ageing and lengthy barrel ageing.
Viña Dulce Nombre 2|8 – Dulce Palomino 1986 (15%, González Byass)
Nose: very rich. There's a sweet wave of fig syrup and raisins, lifted by a slightly fragrant hint of raspberry jam. Cinnamon rolls. Hints of exotic polished wood with a very light spicy undertone. Despite its sweet style it's clearly less heavy than a Pedro Ximénez of the same age.
Mouth: same thoughts. There is a bright fruity acidity that is not found in non-Palomino wines. There are raisins and raspberries again, as well as light toffee notes and hints of blood oranges. Hints of Belgian pear syrup. Remarkably light in a way, with a refreshing balance. Some cinnamon and coffee sweets in the finish. Compared to similar wines like the statically aged examples from Lustau, I'm getting far less spicy notes here. This is all about brightness and balance rather than intensity.
Availability: around € 80-100, check the Gonzalez Byass store. For international shipping, check Master of Malt or The Whisky Exchange for instance.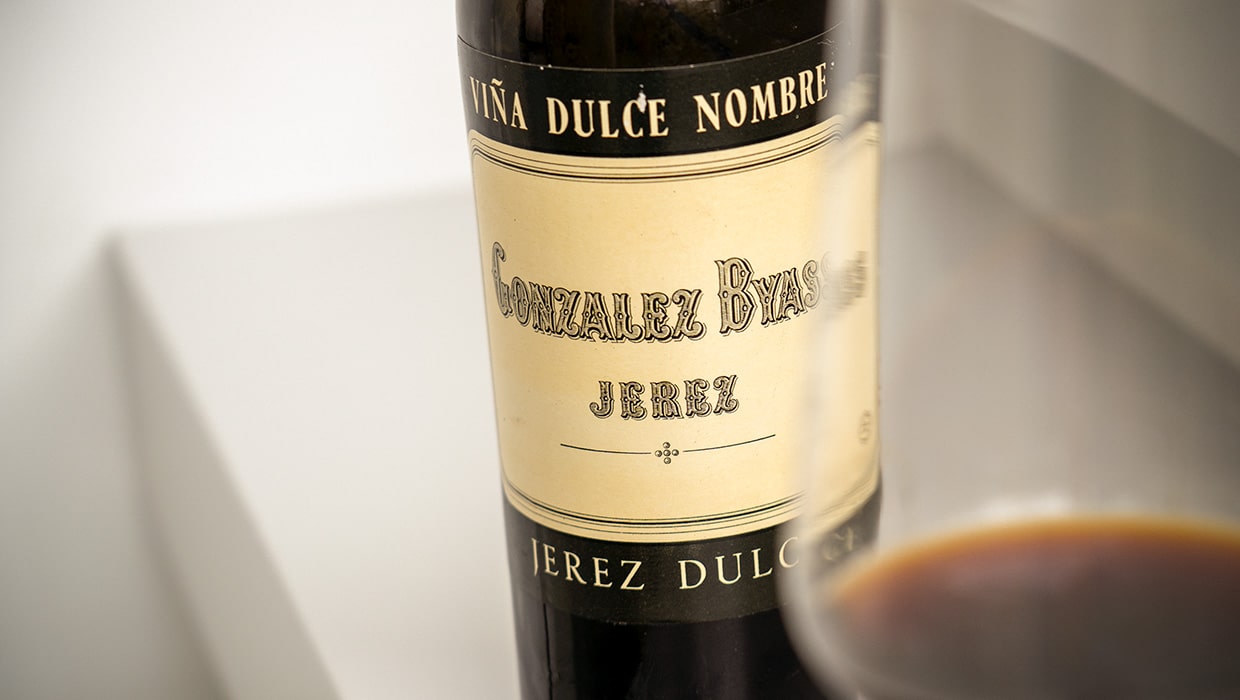 Now we'll compare it to the other wine, bottled sixty years earlier. The colour is clearly darker, the viscosity is more or less the same.
Viña Dulce Nombre (No ABV, González Byass, +/- 1960)
Nose: great to see there's still this light fruity acidity after so many years. I still find some fresh red grape juice in it, go figure. On the other hand the profile is overall darker than in the modern version, showing bigger caramel notes, roasted nuts and coffee aromas. There's also a hint of clove and very light herbal touches. Compared to the velvety, compact modern version this feels a little less bound together, with a slightly volatile hint of alcohol too.
Mouth: again playing a darker register. Dark chocolate, these coffee notes and subtle herbs. The sweetness prevails but it goes hand in hand with savoury notes and a faint bitter edge. I get some sweetened black tea, tobacco leaves and lots of nutty notes, from walnuts to candied chestnuts. Here the old wine is definitely wider than the modern one, albeit also a little muted, lacking this refreshing acidity. Great aftertaste on mocha candy.
Summary: Even after all these years Viña Dulce was still perfectly drinkable, nicely layered and attractive, very velvety and drier than expected. The modern version is even better, it has a great sweet and sour theme, high complexity and just an impressive balance.