Vino de Pasto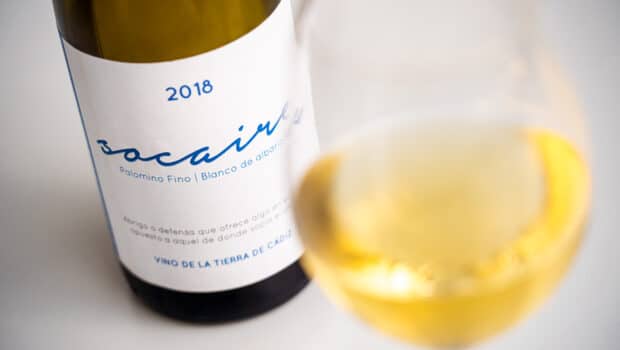 Published on December 3rd, 2020 | by Ruben
0
Socaire 2018 (Primitivo Collantes)
Socaire 2018 is one of the well-regarded blancos de albariza, unfortified white wines made from Palomino Fino on albariza soils (sub-type Tajón) within the sherry zone. In fact back in 2013 it was one of the first to explore the grey zone between white wines, sobretablas and biologically aged sherry, a movement which was even named after this wine: Socairismo (see this video from Colectivo Decantando).
Now in its fifth vintage, it is made by Primitivo Collantes in Chiclana de la Frontera, who also makes a whole series of fortified wines like the Fino Arroyuelo and Amontillado Fino Fossi.
Contrary to the Viña Matalián, which is their young and fruity white, Socaire is naturally fermented and aged for around 24 months (depending on the vintage). The barrels are kept full so there's no flor development, but Primitivo uses ex-Fino butts so you may still get a flor-like edge. The vines are situated in the Finca Matalián (19,5 ha) at around 8 km from the bay of Cádiz, with an altitude of around 100 metres above sea level. Once this area was home to some famous vineyards and plantations, but only a few have survived, with only two vinegrowers left in Chiclana.
Socaire means a lee, a place sheltered from the wind, which refers to the orientation and position of the vineyard behind a natural barrier.
Since a few years there's also a version called Socaire Oxidativo which adds a period of oxidative ageing to the regular Socaire. I'd also like to mention Tivo 2018, a new wine made in a specific part of the Finca Matalián planted with the local grape variety Uva Rey (also known as Mantuo Pilas).
Socaire 2018 (13%, Primitivo Collantes)
Nose: a great example of this style. Clean and pure minerality from the albariza, with aromas of hay, chamomile and scrubland with a subdued peach fruitiness. Some wet chalk. Hints of shells on the shore. Some yellow apples and citrus in the background. A fairly vertical nose, indeed with something very lightly 'biological' to it.
Mouth: very fresh and rounded, with some zingy lemon acidity but also a lot of dry, mineral notes. Light hints of (cider) apples. The minerality and lemony notes make this a very sapid wine, making you drink more rapidly then you should sometimes. Flavourful, with some herbal touches towards the end, as well as a nice saline touch.
Availability: around € 18, but hard to get outside of Spain. Try Bodeboca or Andaluciadevino for instance.
Summary: A great blanco de albariza, showing minerality, power and sapidity, as well as the natural low fruitiness of the sherry grape. Let's do all we can to support these people who go against the flow and try to recover vineyards, especially if they achieve this quality.