Fino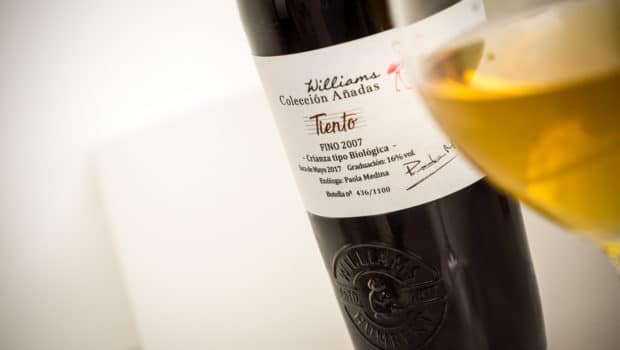 Published on February 15th, 2018 | by Ruben
0
Fino Tiento 2007 (Williams & Humbert)
Tiento is a musical term (hence the five bars behind the logo), originally a contrapunctal piece, later a cante jondo piece related to tango and a precursor of flamenco in a way. Of course flamenco is also the name of a bird, which explains its presence on the label.
As a wine it is the latest vintage Fino from Bodegas Williams & Humbert, the first in a series of vintage sherries that will be named after flamenco styles. Until now Williams & Humbert have released several vintage Finos, check out the Fino 2006, Fino 2009 and Fino 2012 for instance.
It is produced with mosto de yema (free-run juice from the first pressing) from grapes harvested in the pagos Añina and Carrascal. It was aged in static way (without refreshments) since 2007 (a hot year) and still had an active layer of flor after 10 years in the cask. Two botas (n°5 and 6) were combined when it was bottled en rama in 2017.
Fino 2007 'Tiento' (16%, Williams & Humbert 2017, 1100 btl., 50 cl)
Nose: elegance is the keyword here. A fairly smooth, silky nose, with hints of ripe yellow apples and white stone fruits alongside the usual hay and leafy notes. Less marked by the salinity and perhaps less powerful than a solera Fino. Almonds. Just a hint of wet gravel. Overall highly integrated.
Mouth: again very velvety, although it seems slightly more alcoholic and more table wine-like than a solera Fino. Hints of slightly sweet apples, but the minerality and herbal bitterness is bigger. Quite a firm acidity as well, rather stunning for a sherry. The very long finish already hints towards Amontillado, with soft peppery notes and traces of oak.
Availability: around € 25 in the Williams & Humbert webshop (where it is now sold out). Around € 35-40 here in the low countries, where they describe both the nose and the taste as 'sweet and fruity'. There's still a lot of work educating wine stores.
Summary: Vintage Finos tend to be cross-over wines and this is no different. The acidity, the spirity side and the Amontillado-like finish really set it apart. I've had more intense noses but on the palate this is outstanding. A fascinating wine.