Fino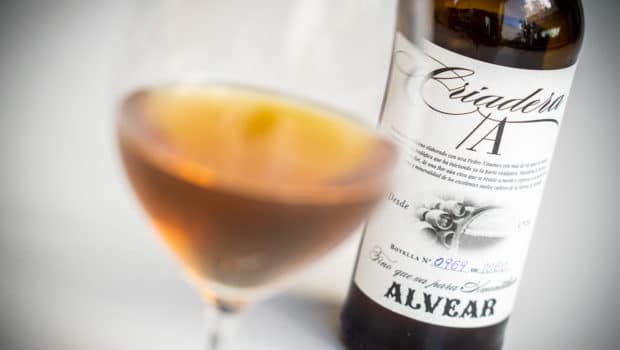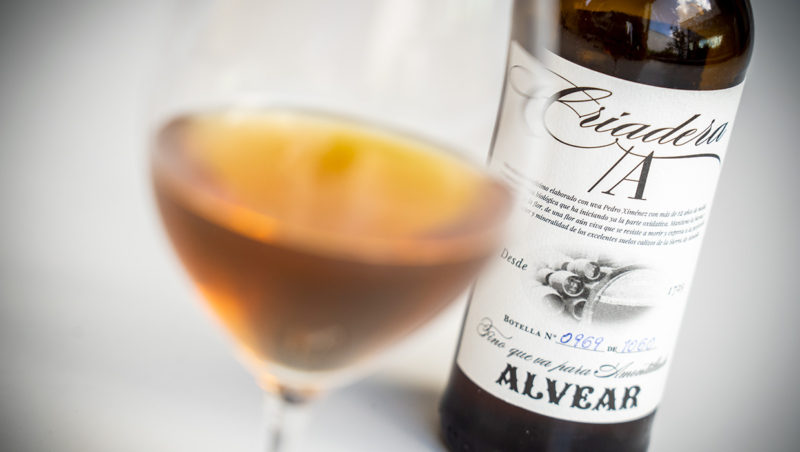 Published on July 13th, 2018 | by Ruben
0
Criadera /A Fino (Alvear)
A Fino that is loosing its flor colony in warmer seasons
Some exciting wines are coming out of the DO Montilla-Moriles lately, including this new Criadera /A from Bodegas Alvear. Since 2017 they also have a new Fino Capataz, an Amontillado Solera Fundación and a Palo Cortado Abuelo Diego, all very old wines with a classy new label.
The label says 'Fino que va para Amontillado' or a Fino that is heading towards Amontillado. This wine was produced from Pedro Ximénez grapes (as they always do in Montilla) and aged for around 12-13 years. Although it is still a Fino with most of the characteristics of biological ageing, it has also started to loose its layer of flor (especially in summer) and initiated the oxidative maturation phase. This intermediate style of Fino-Amontillado used to be popular in the old days but the name itself was prohobited (at least in Jerez, don't know about Montilla to be honest) and it is now hard to come by.
Just looking at the amber/ honeyed colour tells you this is a really old Fino.
Fino Criadera /A (16%, Alvear, Saca 1/2017, 1060 btl, 37.5cl)
Nose: very rich. There is still the aroma of hay bales and dried yellow flowers, as well as very nice hints of wet wool and sheep stables, the Fino Capataz has a more intense flor character, if that's what you're after. This one adds subtle honeyed notes, something of fruit compote (pears), light hints of caramelized almonds, hazelnuts and dried apricots. Touches of waxed furniture.
Mouth: fairly subtle attack, but it grows sharper after a while, with a tight and racey middle. Lemony acidity and firm briney notes, yeasty notes and dried Mediterranean herbs. Dry and very refreshing. It's only in the very end that nutty notes come out, leading to a warm finale with a creamy (slightly sweet) edge.
Availability: only available in half bottles for around € 15.
Summary: I love the nose of this Fino-Amontillado, and although it's quite sharp and intense on the palate, it is a very refreshing. A great wine and an interesting hybrid of two styles.