Fino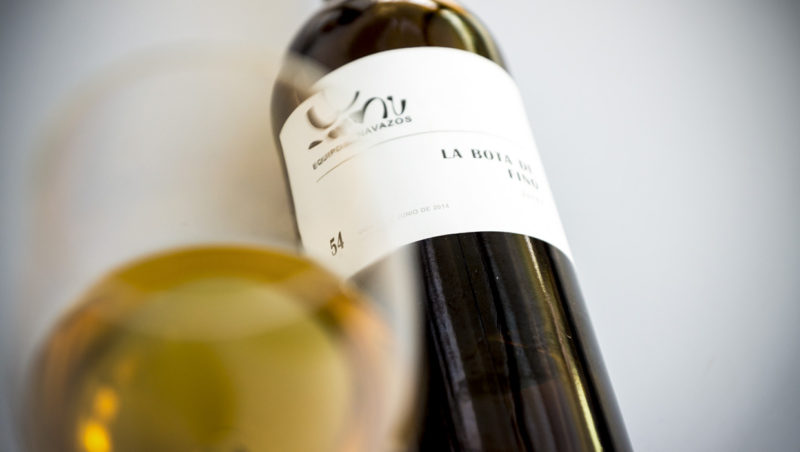 Published on May 9th, 2017 | by Ruben
0
La Bota de Fino 54 (Equipo Navazos)
A selection of Inocente casks, the barrel-fermented single vineyard Fino
I'm running behind on Equipo Navazos releases. Part of that is due to our local importers who don't seem to have anything beyond 60. However in this case it doesn't really matter: an old Fino often benefits from a few years in the bottle.
La Bota de Fino 54 was bottled in June 2014 and comes from the same selection of 69 casks at Valdespino that were used for La Bota de Fino 2, 7, 15, 18, 27, 35 and more recently La Bota de Fino 68. It's the oldest Fino solera at the bodega, containing their trademark wine Fino Inocente in its oldest form. Flor is still active in the first and second criadera, but almost gone in the solera row.
The wine is made with grapes from vineyards in the pago Macharnudo Alto. In this case the wine was taken from the solera row and the second criadera. The estimated average age is around ten years. It is only lightly filtered.
La Bota de Fino 54 'Macharnudo Alto' (15%, Equipo Navazos 2014, 6000 btl.)
Nose: plenty of leathery notes and hay. Some iodine and olive brine but don't expect a powerhouse Fino, especially after bottle ageing. More sand than sea breeze. Light hints of soy sauce. Cider apples. Toasted cereals. A vaguely fruity note in the background. Quite some traces of oxidation. Amazing warmth and roundness, while keeping its intensity.
Mouth: Dry, but quite slick, with a surprisingly juicy acidity throughout. Almost saline flor, with lemony notes. Apples and almonds. Less body than what I remember from earlier releases that I had sooner after bottling. Hints of autolysis. Lovely smoky hints in the finish.
Availability: still available in some shops, although it's probably easier to find n°68. Around € 35. Check The Whisky Exchange for international shipping.
Summary: I was a big fan of n°27, perhaps I waited a bit too long before opening this one. Great nose but the palate was slightly thinner and more citrusy than I remember. Let's not complain though: still a very good Fino.