Background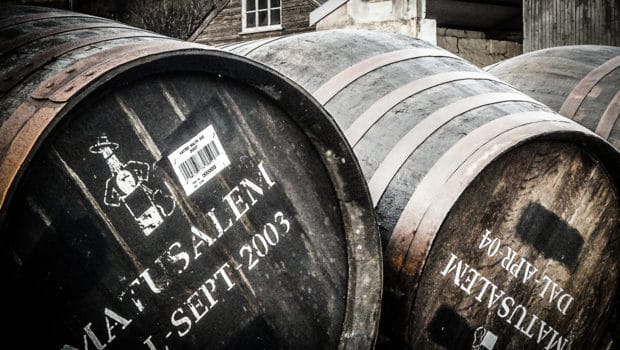 Published on December 1st, 2015 | by Ruben
4
Why whisky lovers should try sherry (again)
A lot of my friends are whisky drinkers and when I tell them about my love for sherry, their first reaction is usually "yeah well, I tried sherry and it's too sweet". Or too dry. Or too soft. Whatever. They've tried it once or twice and weren't impressed. Nonetheless I'm convinced sherry has a lot of qualities which will appeal to whisky drinkers.
For starters, I love the fact that whisky comes in so many styles. There's peaty Islay whisky, delicate Lowlands whisky, fruity Irish whiskey or American bourbon, young and old, matured in a wide range of casks (bourbon barrels, virgin oak, Port, Madeira, Sauternes… and indeed sherry casks of course).
The diversity of sherry wines
Well, I can tell you the diversity in sherry is probably even bigger. There are at least eight different styles of sherry, from a bone-dry, uniquely mineral Manzanilla to a lusciously sweet Pedro Ximénez. Whisky lovers tend to be disappointed when someone says "I don't like whisky, it's too smoky". Well, sherry lovers feel the same way. You just need to find your own matches. Also, don't stop with what you can find in supermarkets.
Maturing whisky in sherry casks add complexity and body, which is why the whisky industry is keen on getting these casks to Scotland
People are naturally attracted to sweetness so I guess dry alcoholic drinks are kind of an acquired taste. My favourite sherries are dry, and as a whisky drinker you're already accustomed to a dry, oak-matured drink.
Of course the whisky and sherry industries are well acquainted. Since the 19th century, sherry was transported to England and the empty barrels were quickly taken over by the whisky industry. It turned out that maturing whisky in these sherry-infused casks made it more mellow and added a lot of interesting flavours.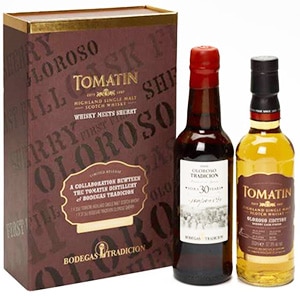 Sherry matured whisky
Sherry matured whisky is still regarded as the most complex kind. On the other hand sherry sales are in decline and bodegas rarely sell their barrels, so sherry casks are now in high demand and very expensive. Nowadays most of the sherry casks are specifically produced for the whisky industry and seasoned with wine, rather than taking them from sherry soleras. Still, if nobody drinks the wine, then bodegas will probably not bother seasoning casks for the whisky industry either.
In the end, trying a few styles of sherry and experiencing the differences will give you a better understanding of your whisky. When you've tried the sherry that influenced it, you will be able to predict which flavours to expect from a certain whisky.
Where to start your sherry exploration?
My advice to whisky drinkers would be to start with a dry Oloroso. If you fancy Macallan, GlenDronach, Dalmore or Glenfarclas, you will immediately recognize some of the classic aromas that we've come to associate with sherried whisky. Dried fruits, chocolate, toffee, nuts and a good deal of spices, these flavours all come from the sherry that was soaked up by the wood. Oloroso can also have a hint of smoke.
Mind that sweet Oloroso (or sweet blends, called Cream sherry) also exists. It has more or less the same flavours, but it's richer and probably a bit more accessible. For some people this will work even better as an introduction. While most sherries work best with some food, sweet Oloroso is a perfect after-dinner drink.

A next step could be Pedro Ximénez, made from grapes that were dried in the sun. PX casks are used by lots of whisky distilleries to get a really deep colour and intense sherry flavours. Here you will also get figs and dates, but with a huge dose of caramel and chocolate. This wine can be sticky sweet and a bit overwhelming for some, but I'm sure you will be blown away by its flavour intensity.
Advanced styles: Amontillado and Fino
If you're into older Speyside whisky with a good dose of oak influence (older Glen Grant, Longmorn, Glenlivet, Balvenie and many more), then I would suggest Amontillado. This style often shows polished oak, leather, some waxy notes, vanilla, orange peel and walnuts.
Fino and Manzanilla are probably the most difficult styles for outsiders, because of the yeasty notes, herbs, briny hints (green olives) and the 'naked', bone-dry structure. These casks are much less common for whisky maturation, although examples definitely exist. I would compare this type of sherry to the more coastal, sometimes rather austere whiskies like Springbank, Glen Garioch or Clynelish. A very interesting profile for experienced palates!
There is probably a type of sherry for every kind of (whisky) drinker – you're already familiar with a lot of the aromas. Take your time to explore the options and you may be surprised. With whisky prices rising dramatically these days, you will be amazed of the flavour richness and the very reasonable pricing of sherry. A bottle of 30 year-old single malt will easily set you back € 300-400, whereas an excellent sherry of equal age is available for less than a fifth of this price. And remember, drinking more sherry leads to better whisky in the end!
Want more recommendations? Check out WhiskyNotes, my website on whisky