News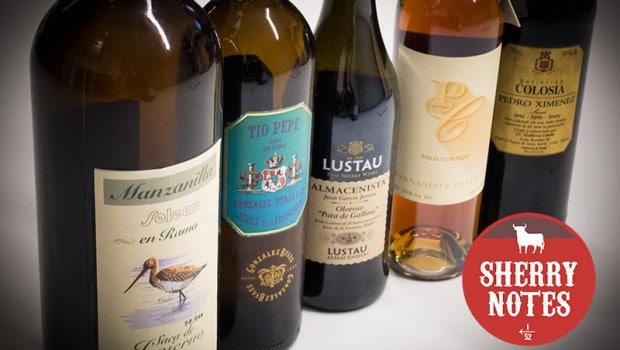 Published on May 9th, 2014 | by Ruben
3
Sherry Twitter Tasting 2014 #SherryTT
International Sherry Week (ISW 2014) is a whole week of events celebrating and promoting Spain's unique sherry wines. The campaign is managed by Chelsea Anton in collaboration with the Consejo Regulador and the Town Hall of Jerez. Expect guided tours, menus in restaurants that pair food with sherry, sherry tastings in bars, tapas evenings, flamenco… not only in the Jerez triangle but worldwide. ISW 2014 coincides with Jerez winning the title of European Wine City 2014, even more reason to celebrate this unique and historical wine region.
Sherry Twitter Tasting 2014 (#SherryTT)
I decided to host my own event: a Sherry Twitter Tasting – the first ever, as far as I know. Here's the concept: I've made a selection of five of my favourite sherries – a selection that represents different bodegas and different styles of sherry. Every participant will receive a package with a sample of each wine. We'll open them on Tuesday 3rd of June (19h00 CEST) and try the wines together while communicating via Twitter (hashtag #SherryTT). I will guide you through the wines but it's more fun if we join our forces and discover them together. Moreover, some of the producers will join in on Twitter and will be available to answer your questions.
You don't have to be an experienced sherry drinker to apply. We're also looking for people who normally enjoy a fine wine, whisky, cognac, Madeira or other drinks. After the tasting, you will have an overview of the wide spectrum of sherry styles and we hope you're interested to find out more.
Apply for a free package of excellent sherries and try them with us via Twitter
The best news is that the packages can be offered free of charge. Free wines and free shipping. The only requirement is that you're available that day and that you make some noise about it on Twitter or Facebook. Also this event is limited to Europe (due to shipping restrictions on alcohol – next time we will try to find a solution).
Here's the line-up of sherries you will be able to try:
An in-depth review of each wine and an introduction to the bodegas will be available on SherryNotes for your reference.
Want to participate?
If you want to be part of this ISW event, send me your name, country and Twitter account using the contact form. You can apply until 20th of May 2014. Only 15 places are available this time so we might have to make a random selection if more people apply. But don't worry, more occasions will follow in the future.
By the way, anyone can participate. I'm sure you can find some of these wines in a nearby shop, or maybe you just want to follow the ideas and reactions on Twitter while enjoying something else from your fridge.