Pedro Ximénez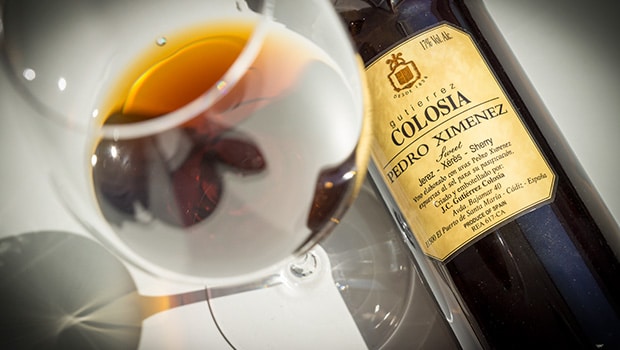 Published on May 20th, 2014 | by Ruben
0
Colosía Pedro Ximénez (Gutiérrez Colosía)
Pedro Ximénez grapes are picked over-ripe to maximize the natural sugars. This typically results in a must which contains around 300 grams of sugar per liter. However the over-ripe grapes are also dried in the sun before pressing (called soleo), which results in an even higher sugar contents of around 450-500 grams per liter in the must. The end result in the bottled wine is be around 350 grams in the case of this Colosía Pedro Ximénez. Mind that this sweetness is completely natural.
P.X. is great with ice cream, bitter chocolate, strong cheeses or other desserts
Most people seem to think Pedro Ximénez is made with red grapes. That's not the case: it's technically a white wine, which turns brown due to the oxidative maturation process.
This Colosía Pedro Ximénez is produced by Bodegas Gutiérrez Colosía. It's their standard PX (there's also a much older version in the Solera Familiar series). Colour-wise, this is a dark wine of course, though maybe not as opaque as some other P.X. – I would say very dark ruby rather than abony. In the glass, it's also less viscous than some other.
Colosía Pedro Ximénez (17%, Gutiérrez Colosía 2014)
Nose: rich and sweet, with lots of dates and raisins. Dried figs and candied fruits. Plum jam. Kind of a liquid walnut cake. Hints of honey-coated almonds. It also has the typical peppery / liquorice sharpness.
Mouth: quite vibrant and velvety, with a nice elegance despite its high sugar contents. Molasses and treacle. Sticky toffee pudding. Dates and figs again. A slight acidity comes out towards the finish, with some peppery overtones.
Availability: around € 15 for a half bottle, or € 20-25 for a full bottle.
Summary: This is certainly not the heaviest, stickiest P.X. around, which is a good thing in my opinion. It's very sweet but manages to keep a nice balance. Best coupled to a dessert, but nice enough to drink on its own.