Manzanilla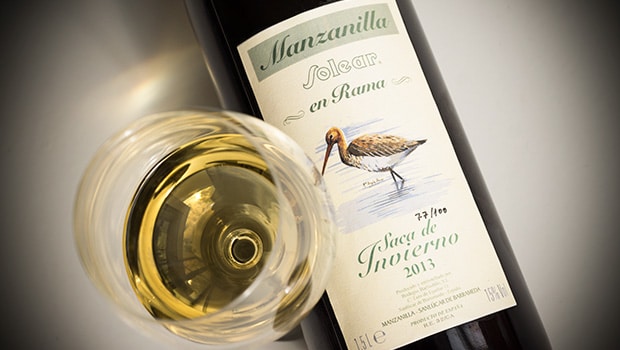 Published on March 8th, 2014 | by Ruben
0
Solear En Rama – Invierno 2013 (Barbadillo)
Bodegas Barbadillo have been releasing the en rama version of their popular Manzanilla Solear since 1999 – they were pioneering this category of unfiltered sherry. In fact they already pioneered the whole Manzanilla style, as they presumably bottled the first one in 1821. For each saca around 10 butts are selected and only +/- 2500 half bottles are taken out. The wines are bottled with minimal filtering, using egg white just as in the old days. Solear En Rama is around 8 years old. Contrary to common (filtered) Manzanilla, it's supposed to age well in a bottle too, so don't hesitate to put away some bottles in your cellar and enjoy the evolution.
This edition features the black-tailed Godwit on the label, another typical shorebird of the Doñana reserve
Autumn 2013 was dry and moderate, and the cold weather just before the saca should have resulted in an intense Manzanilla with profound characteristics.
Solear En Rama is normally only available in half bottles, but I tried this one from a 1,5 liter magnum bottle – a unique concept in the world of sherry. It's a limited series of 100 bottles, specially made for Taberna Der Guerrita in Sanlúcar. Starting in Autumn 2013, during two years they will receive 100 magnums of each release. They're available for around € 40.
Solear En Rama – Saca de Invierno 2013 (15%, Barbadillo)
Nose: even more intense than I remember the Saca de Verano 2013. Walnut husks, sunflower seeds and plenty of hay. Lots of bread dough and olive juice. The hints of stables and bacon fat are quite loud too. It's mostly the Montuliensis yeast speaking, with high amounts of acetaldehyde. Far away from a common, filtered supermarket Manzanilla. Dried chamomile, a bit of thyme. Hardly any fruity notes. Such a powerful wine and probably the closest you'll get to trying it straight from the cask.
Mouth: again heavier than the summer release. Very dry and punzante. There is a volatile apple flavour, followed by some lemon skin, but these are quickly overtaken by an intense salinity and plenty of bitter / herbal notes. Quite a long finish.
Availability: difficult to find, especially the magnums. Around € 12 for a half bottle (37,5 cl). If you're living in Belgium like me, try Xpertvinum who are really getting into sherry lately.
Summary: One of the best examples of Manzanilla en rama, in my opinion, but you'll have to like a very powerful, slightly austere profile with plenty of brine and yeasty notes. Such a delight, and having it in a magnum bottle makes it last even longer.