Manzanilla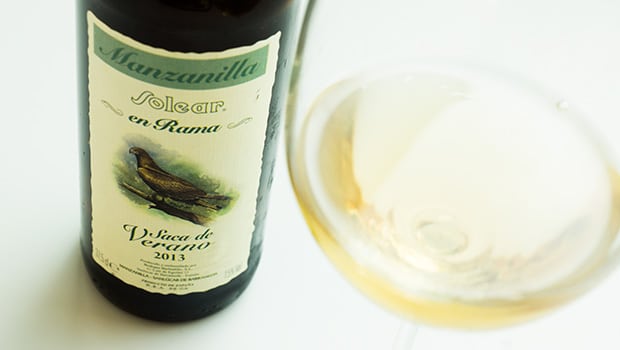 Published on October 10th, 2013 | by Ruben
0
Solear En Rama – Verano 2013 (Barbadillo)
Bodegas Barbadillo have been releasing the en rama version of their popular Manzanilla Solear since 1999 – they were pioneering this category of sherry. In fact they pioneered the whole Manzanilla style, as they presumably bottled the first one in 1821. For each saca around 10 butts are selected and only +/- 2000 half bottles are taken out. The wines are bottled with minimal filtering, using egg white just as in the old days. Solear En Rama is around 8 years old.
Verano obviously means the summer of 2013. Barbadillo takes out four bottlings of this Manzanilla each year and each version will reflect the season it was bottled in. The flor is thicker in spring and fall, so a summer release should show a bit less of the yeasty flor influence.
Each edition of Solear En Rama features a different animal that lives in the nearby Parque de Doñana
This is probably the best time to try this summer edition. It is still recently bottled and fresh, but it has had enough time to recover from the bottling shock and the transport conditions. Keeping this bottle in the cellar for a few more months would be interesting as well, it should become more mellow and integrated but it will lose some of the pungency that is typical for En Rama releases. Buy two (or more), I'd say.
Solear En Rama is only available in half bottles. It is bottled from around 10 butts so the available amount is very limited and smaller bottles help to widen the audience. Note that contrary to most sherries, the bottle comes with a traditional driven cork stopper. A stimulus to enjoy it right away.
Solear En Rama – Saca de Verano 2013 (15%, Barbadillo)
Nose: quite intense, with yeasty notes and dough, hints of stables and sunflower seeds. Green almonds. A bit of toasted bread with hints of broth and bacon fat. Quite a lot of sea spray as well as green, leafy notes. Dried chamomile and cut apple. A nicely rounded, almost candied fruity note in the background which becomes bigger over time. There's something of young wine to it, but something of an older Manzanilla Pasada as well. A big and complex nose.
Mouth: surprisingly fresh, fruity and bright – after all this is a Verano release. Dry but really citrusy as well. Some quinces and still a bit of roundness. A surprising volume and weight. The salinity, yeastiness and hints of bitter, herbal notes grow louder and more intense towards the end. Huge intensity compared to standard Manzanillas. Unfortunately the finish is a bit on the short side.
Availability: difficult to find, virtually impossible outside of Spain. Around € 12 for a half bottle (37,5 cl).
Summary: I would say the 'en rama' character comes out more in the nose than it does on the palate. Overall in line with the normal Solear, but considerably wider and longer. A great wine and possibly the ultimate match for sushi.