Oloroso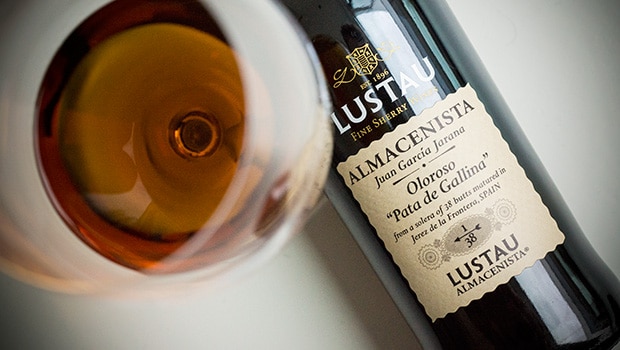 Published on February 1st, 2014 | by Ruben
0
Almacenista Oloroso 'Pata de Gallina' (Lustau)
A Pata de Gallina mark is given to smooth, elegant sherries
The main occupation of Don Juan García Jarana is running a motorcycle shop 'Dos ruedas', but in his spare time he also manages a 100 years old bodega in the Santiago neighbourhood, which holds around 300 butts. It includes Finos, Amontillados, Olorosos and PX.
His Olorosos are widely acclaimed and Bodegas Lustau are bottling this Oloroso 'Pata de Gallina' in their Almacenista series since 1989. In fact it's one of the most popular wines in this series, which unites wines from different small bodegas that are not shipping themselves.
The wine is said to be nearly 20 years old and comes from the oldest solera in the bodega, holding 38 butts. It is supposed to have originated as a Palo Cortado and then evolved to an Oloroso profile, which could explain its elegance and unique qualities.
Pata de Gallina means hen's foot. I suppose the name is given to the wine because chicken's feet contain a lot of collagen and adding them to a soup adds a gelatinous texture. In the sherry region it's a chalk mark placed on butts that display an above average richness and smoothness, due to high levels of glycerol. While these wines are completely dry, the glycerol gives them a full body and makes them seem sweeter and rounder than they actually are.
Oloroso 'Pata de Gallina' – Juan Garcia Jarana (20%, Lustau Almacenista 2003, 1|38, 50 cl)
Nose: very elegant. Notes of Liège pear syrup and caramelized peanuts. Cinnamon. Molasses and toffee. Some dried figs and dates, with brighter hints of orange zest. Subtle hints of old oak and sweet coffee as well.
Mouth: beautifully rounded and oily, with just a hint of sweetness. Quite fruity, both fresh berry fruits and dried figs. Very smooth, with a nice acidity of raspberry juice and lemon peel. Not at all tangy or austere, but it's quite powerful with a bit of alcohol coming out. Dry and very long finish.
Availability: widely available. I paid around € 22 for a 50cl bottle.
Summary: I really like this Oloroso for its rich fruitiness and a particularly oily, full body. It's dry but the roundness makes it more appealing to a wide audience.