Fino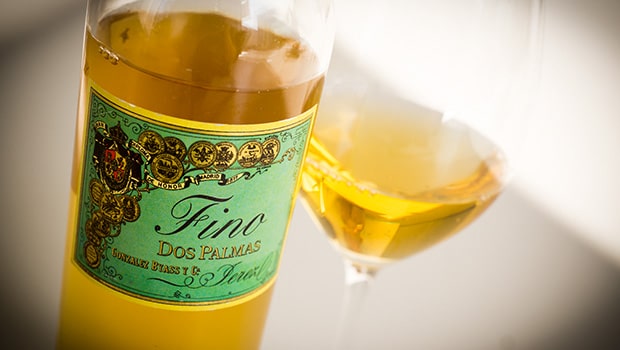 Published on March 14th, 2014 | by Ruben
0
Dos Palmas (Gonzalez Byass)
In 2013 the flor has been very active, which is good news for this release
The Palmas series shows the evolution of a Fino, from Una Palma (six years old), over Dos Palmas and Tres Palmas all the way through to Cuatro Palmas (a magnificent 45 years old Amontillado). Basically they're all advanced stages of the bestseller Tio Pepe. This is the first wine I could try from the third edition of this series, the Finos Palmas 2013.
Dos Palmas is a Fino of eight years old (perfectly in the middle between Una Palma and Tres Palmas) and it's bottled from just two casks (numbers 7 and 26) from the third criadera of a solera of 150 butts. At this stage the layer of flor will have started to thin out and the flavours will have concentrated compared to a younger Fino. However this year the climate was very benificial for the development of flor and significantly more casks were found with an intact layer of flor.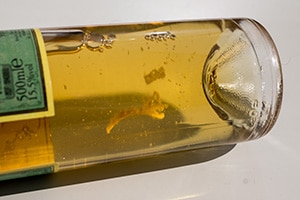 Viña AB, the standard Amontillado from González Byass, is around nine years old so in fact Dos Palmas is already a "stretched" Fino in a way. You have to actively nurture the layer of flor, otherwise it would have become an Amontillado already.
Like the other Palmas,  this is an en rama bottling. The picture to the right gives a good impression of what this means: there's plenty of sediment and lots of white, yeasty particles are floating around in the bottle. There's a small chance this flor will still evolve, but I'm pretty sure it adds flavour!
Fino Dos Palmas (15,5%, González Byass 2013)
Nose: surprisingly strong marks of flor, and huge notes of iodine. It's almost a medicinal nose. Green olives and yeasty notes. Some hay. A nice hint of glue as well. Marzipan and hazelnut – that's the start of an Amontillado. It's not as fruity as some younger Finos, but there's still a hint of pear in the background. Soft hints of autolysis and oxidation.
Mouth: quite full-bodied, more viscous than a regular Fino, but still very dry and very briny. Olive juice and seawater. Very savoury, with a soft peppery edge. Not particularly complex – Tres Palmas is better in this respect, and you can find similar profiles in more largely available Finos – but it's interesting as a consecutive step in the Palmas series nonetheless. Very mineral finish.
Availability: better than previous years, or so it seems, but still only +/- 2000 bottles. Primarily sold in the UK and Spain but other selected markets have a small allocation as well. Around € 25 for a 50cl bottle.
Summary: For González Byass, Dos Palmas is the translation of 'balance and grandeur'. Grandeur is certainly true: this is a big, intense, saline and spicy Fino. However if you plan to buy only one wine, I would go for Tres Palmas or Cuatro Palmas.