Moscatel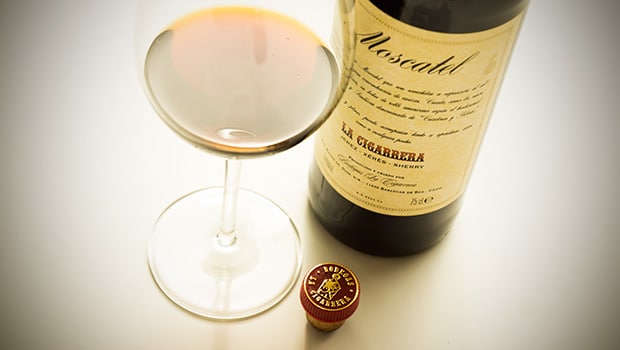 Published on September 20th, 2013 | by Ruben
0
Moscatel (La Cigarrera)
The Moscatel produced by Bodegas La Cigarrera is a Moscatel de Pasas, made of sun-dried grapes. After the harvest, clusters of grapes are laid out in the sandy flats close to the ocean and left to dry for up to three weeks. Most of the moisture will evaporate and the grapes are crushed and fermented. Moscatel de Pasas means we can expect quite a dark mahogany Moscatel, resembling a Pedro Ximénez wine.
Moscatel pasas is made of sun-dried grapes
Although their Manzanilla accounts for 90% of the production of La Cigarrera, they are also producing limited amounts of other sherry types. This Moscatel is bottled from a solera with an average age of 5 years.
Moscatel (18%, La Cigarrera 2013, 75 cl)
Nose: nicely fresh, beyond the obvious sweetness. Lots of raisins. Great aromatic orange peel and lime juice. Some floral honey and Demarara sugar. Subtle hints of bergamot or coriander seeds in the background.
Mouth: much sweeter now, quite velvety and surprisingly peppery. Notes of plums and dates. Just echoes of citrus. More caramel and toffee flavours, maybe a little too sweet overall and lacking some complexity.
Availability: Around € 10 for a full bottle. Make that € 7 in Spain.
Summary: A nicely sweet nose with bright, aromatic citrus notes. The palate is sweeter, far less complex and surprisingly peppery in the end. Pretty good and well-priced.