Pedro Ximénez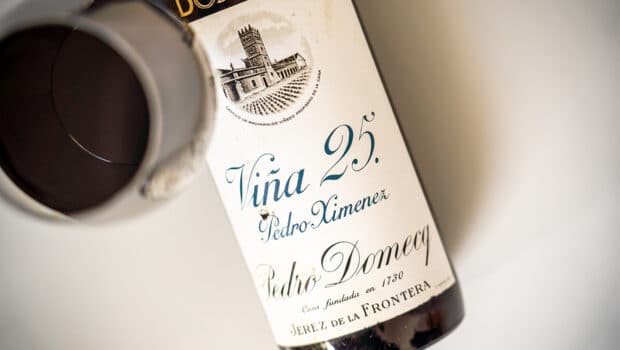 Published on July 7th, 2022 | by Ruben
0
Viña 25 Pedro Ximénez (Pedro Domecq)
Old Domecq wines always peak my interest and Pedro Ximénez tends to hold up really well
Viña 25 has always been a cornerstone of Pedro Domecq's sweet sherry portfolio. I have a catalogue from the late 1940s which mentions this wine as the entry-level Pedro Ximénez, especially popular on the American continent. It sits below their older Pedro Ximénez Venerable (now part of Osborne) and the Pedro Ximénez Extra, part of the specialties of the house back then.
The brand still exists today, now marketed by Lustau or more precisely by Bodega La Ina, a separate entity under the same umbrella as Lustau. The same goes for the Oloroso Rio Viejo for instance, of which I opened a 1970s bottle last year.
As you know I tend to buy and open very old bottles of sherry, checking their evolution and the effects of bottle ageing. In this case the base of the bottle (= production date of the glass) refers to September 1969.
Pedro Ximénez Viña 25 (Pedro Domecq, +/- 1969)
Nose: not that far from a modern PX. Plenty of raisins (some in rum, others not), dried figs and extremely ripe dates. It has a high intensity and an interesting ethereal note, something lightly balsamic but akin to petrol fumes as well. Some herbal touches. Even a light ashy / burnt edge. Then back to chocolate notes and sweetened espresso, with sticky toffee and arrope.
Mouth: simply but quite voluminous. It starts with more raisins and dates, but it gradually becomes much darker. There's plenty of coffee, including a bitter touch of herbs and cocoa powder. Treacle and burnt chestnuts as well. As often the long cellaring took away some of the brighter sweetness and amplified the drier notes. In the finish this bitter coffee and chocolate combination gets even stronger.
Availability: occasionally in auctions. Of course there is now a modern descendant produced by the Grupo Caballero.
Summary: Pedro Ximénez is truly indestructible. I love how the bright fruity notes seem to make place for a series of drier notes, including herbal touches and in this case a specific balsamic edge. Complexity is supposedly higher as well. A really good wine that still offers a lot of drinking pleasure.